Best Electric Hunting Bike 2023
Introduction
As the hunting season approaches, many hunters are looking for new ways to upgrade their equipment and improve their experience in the wild. One of those upgrades is about electric hunting bikes such as the ones provided by YoungElectricBikes that have been specially designed with features suited for hunting.
This article will provide an in-depth look at why electric bikes can be beneficial to hunters and what features they should consider when picking the best model of eBike that suits their hunt needs.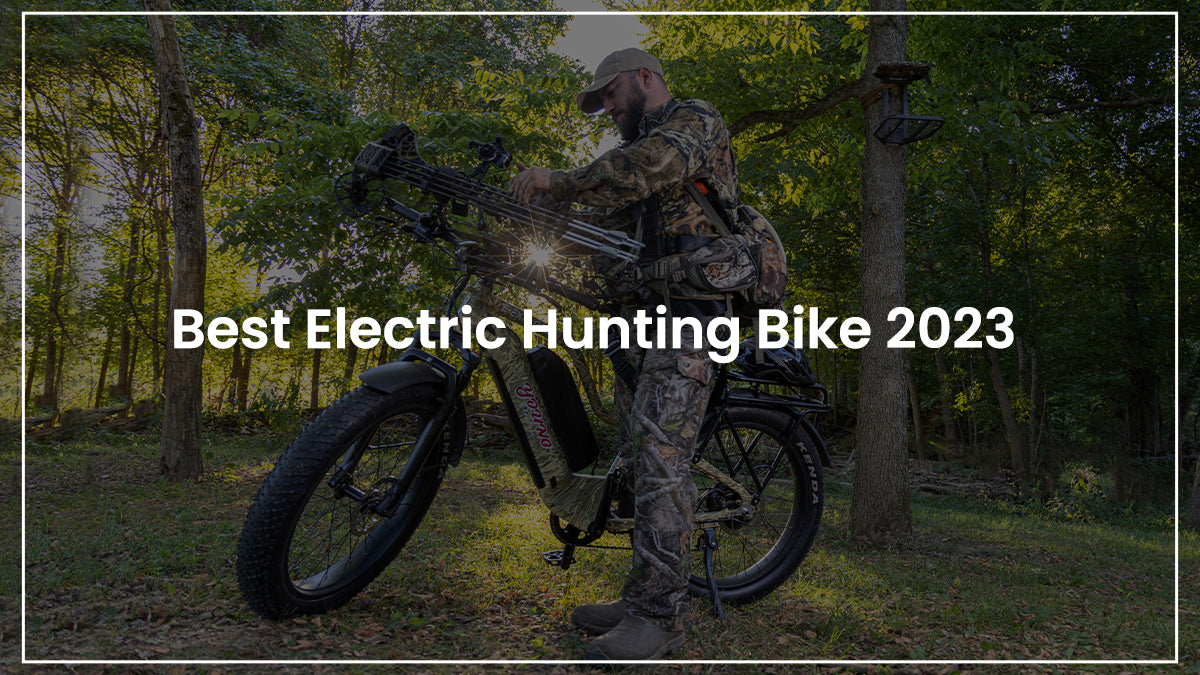 Why Electric Bikes Can Benefit Your Hunting?
An electric bike, or eBike as they are sometimes referred to, is a motor-assisted two-wheeled vehicle that can provide assist while pedaling.
It offers many advantages to hunting applications that traditional bikes fall short in. Let's find out a few benefits to consider when selecting electric biking for your next hunting trip.
1) Power:
For the hunter in need of an edge, high-powered e-bikes provide a decisive advantage. Don't let fatigue rob you of the opportunity to get that spoils, move swiftly and smartly with electrically-assisted efficiency. With up to 1000 watts of motor power delivering assistance on rugged paths or significant inclines, you can conquer longer distances without tiring out your legs and arms.
Seize that hard-to-find animal with the electric energy granted to you by an e-bike; it'll make your hunting journey a whole lot easier!
2) Battery:
Enthusiastic hunters rejoice! An electric bike equipped with an integrated battery pack can keep you riding for up to a whopping 6-8 hours, ensuring that your hunting expedition yields its maximum rewards. This ensures you have plenty of power for the duration of your hunt, and you no longer need to worry about running out or having to carry spare batteries with you in case yours dies during a long ride into remote areas.
Also, since most electric bikes have removable battery packs, so that you can replace the depleted one with a fully charged pack when needed.
3) Long Range:
Many electric hunting bikes are equipped for long-range travels and will provide up to 70-100+ miles on a single charge, which means that you don't have to worry about exhausting your battery during the day and having it run out.
Hunters, rejoice! With an electric bike at your disposal, you now can explore out-of-reach spots on the hunting grounds easier and faster than ever before.
Averaging 28 mph in speed - greater compared to traditional cycles - these trusty eBikes extend your range and guarantee a more pleasurable experience.
4) Suspension:
Explore the unexplored! Wanna journey through off-road trails in remote areas with a regular bike? Now that's going to be tricky as potholes, rocks and other such rough surfaces can throw you off balance.
However, an adventurous spirit will help you ride through them all! This is where the features of an electric hunting bike stand out as they come with built-in suspension that significantly reduces the vibration of riding on rough surfaces.
This helps to make long rides more comfortable and also allows for a smoother ride across bumpy trails increasing traction, especially when you are carrying heavy loads like harvested animals back home from your expedition.
5) Fat Tire:
If you are looking for an electric hunting bike, opting for a model with fatter tires will be very beneficial. These provide better traction and stability which can come in handy when navigating tricky terrains such as mud or technical trails.
Additionally, the wider tires also provide more comfort when riding on rough surfaces as they have a greater shock absorption capability compared with others bikes.
6) Safety:
Lastly, an electric hunting bike is equipped with powerful brakes and features that help you control the bike better.
This is especially important when traveling on tricky terrains, as having a powerful motor requires your vehicle to be in full command by its rider at all times to ensure both safety and efficiency. 
Can You Drag A Deer With An Electric Bike?
Yes! As you already know, electric bikes are powerful vehicles and they can be used to drag your harvested animal back home or campsite. But it's best that you limit the weight of what you are carrying to approximately 50 lbs. Otherwise, it could potentially strain your eBike and affect its performance, or worse yet, damage the bike altogether. However, with the power and range of an eBike, dragging a deer back home after your hunt is not going to be a challenge. You can ride passengers as well if needed, for example, to bring another hunter along with you into the field. Also, some electric hunting bikes come with cargo racks on the rear to make carrying and dragging your goods easier.
What Else Hunt Tools Can Be Equipped On The eBike?
Most Electric Hunting Bikes are designed in a way that allows the rider to equip necessary gear for hunting - such as a gun rack and even electric hunt game calls!
The gun mount allows you to secure your firearm in place, whilst the rear basket provides room for additional items.
Packs and bags can be fitted on both sides of the eBike, or there is also an option to fit it at a lower location of the frame, allowing easier maneuvering as the weight is distributed evenly on both sides of your bike.
All features above will enable you to access any of your tools while on the go.
How Do I Choose An Ebike For Hunting?
No two riders are the same, so it's important to choose an electric hunting bike that best suits your riding style and size. Here is a quick guide to what to consider when making the purchase:
1. Weight:
Opt for a lightweight electric hunting bike as it will be much easier to maneuver on rocky terrains and steep inclines. A motor with a heftier torque rating will likely be more muscular, necessitating the use of an even sturdier frame to guarantee stability during turbulent jolts or rapid turns.
Inversely, a lighter frame should mean less torque and reduced power. You'll want an eBike that weighs less than 100 lbs to be able and easily move it around if needed.
2. Motor:
Look for electric hunting bikes with hub motors as they are much more powerful when compared to mid-drive motors. In addition, they help to keep the weight distributed evenly throughout your bike, making it easier to ride on rough terrains as well as maintain balance while coming down steep inclines.
Others motors can also provide a boost of speed up to 28 mph as long you're pedaling, this is beneficial when needing quick access to remote areas.
3. Battery:
Select an e-bike that has at least 6-8 hrs of battery life, so you don't have to worry about having it run out during the hunt.
Another good thing is that many electric hunting bikes come with a removable battery pack for easy replacement if needed when the current one starts to deplete.
4. Range:
Choose an e-bike with a minimum range of 50 Miles and it should come in handy when you are out hunting for long periods, as you don't have to worry about running out of power.
Most electric hunting bikes come with specially designed, higher output batteries that can provide up to 70-100+ miles on a single charge – this means you won't have to worry about battery life when riding to remote.
5. Suspension:
Look for an electric hunting bike equipped with suspension as it will make your ride much more comfortable and pleasant when navigating rough surfaces such as jumps, rocks, or sandy terrains out in the wild.
The suspension will help reduce the amount of vibration your bike is impacted by, making it easier for you to ride over long distances without tiring out quickly or losing control of your eBike due to vibrations received through bumpy trails, increasing traction and ensuring a smoother ride across the tracks.
6. Fat Tire:
Make sure to opt for an electric hunting bike that has fatter tires as it will provide you better traction on tricky terrains, sharp corners or uneven surfaces if needed.
The wider tires also provide good support and comfort when riding since they better absorb shocks from any bumps, obstacles, or rocks that you may encounter in your hunt.
7. Price:
Although it can be concerning to spend some extra cash to get what you want, this is one of those items where spending a bit more could help in the long run. The price of such ebikes is reasonable too. So, you don't have to break your bank!
8. Safeties:
Check out electric hunting bikes that come equipped with powerful brakes, discs, or dual pistons which is especially important when navigating tricky terrains like a true outdoor environment, especially when you are carrying any loads.
9. Appearances:
Are you looking to add a touch of flair and finesse to your next expedition? Then search for an electric hunting bike with optimum aesthetics. Blending into the countryside has never been so stylish!
What Is The Best Fat-Tire Bike For Hunting?
With so many different electric hunting bike models available in the market, it can be difficult to know which one best suits your needs. As a leader when it comes to the e-bikes industry, YoungElectricBikes has an extensive range of electric hunting bikes that are specifically designed to cater to your needs. Check out this one!
Go the distance with our powerful E-Scout Pro 750W Hunting Long-Range Bike! Reaching speeds up to 28 MPH by the pedal, this electric bike is equipped with Shimano 7-speed gearing system, 15 Lux headlights, and dual hydraulic disc brakes. Fitted with an aluminum alloy frame, rear hub motor, and battery made of LG cells for a range of up to 80 miles - this unisex bike is mean to be a reliable companion!
Enjoy comfort levels you've never experienced before with its adjustable suspension fork and 26*4.0''fat tires, for it makes any terrain effortless to conquer!
What's more, with the thumb throttle design for convenience and fenders preloaded for multiple functions; this bike is ready in no time, with 95% of the assembly already complete. Where will you take your next adventure?
What's The Special Of Young Electric Bikes?
Experience the thrill of discovery that only a long-range electric bike can bring! The Young Electric E-Explorer 1000W Bike provides a thrilling ride backed by class 3 speed and 5 riding mode settings, along with an immense 28 MPH top pedal-assisted speed. A removable 48V/15 Ah Lithium-Ion battery with LG cells offers up to 90+ miles of range, depending on pedal effort. An advanced 3.5" HMI color matrix display provides vital bike statuses and trip data while a high-power headlight makes your path visible even at night! The biggest feature of the e-explorer is that it can be equipped with dual batteries.
In addition, durable materials and original design are combined to make an e-bike that can take on the toughest trails, up steep hills, or with heavy loads while ensuring maximum stability, safety, and comfort throughout your expedition.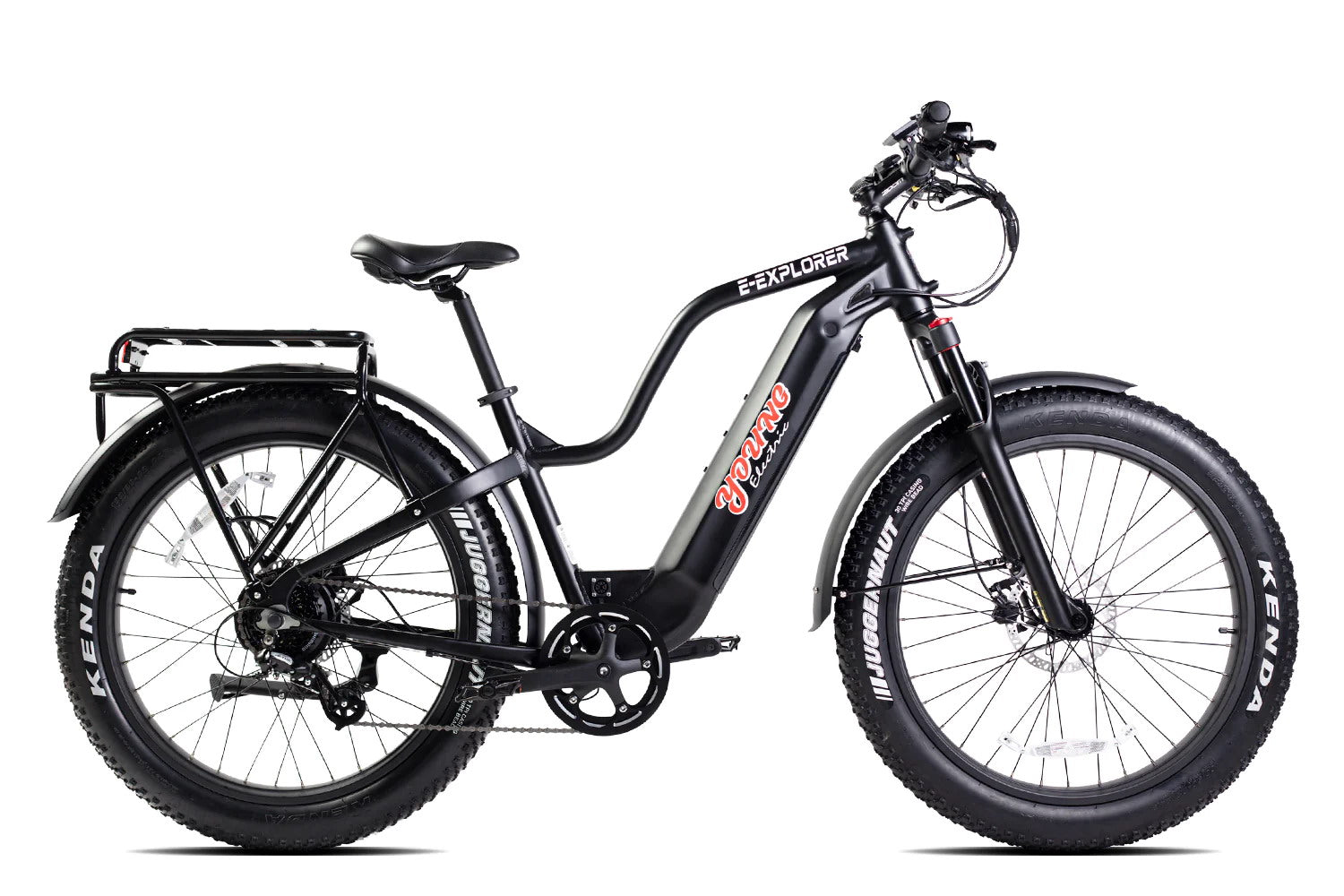 Conclusion
Electric hunting bikes have become increasingly popular amongst outdoor adventurers in the past couple of years, mainly due to their powerful motor, long-range capabilities, and special hunt features. But I'm sure the tips listed in this article could offer guidance when selecting an electric hunting bike that is affordable, lightweight, powerful, and provides excellent safety features as well - enabling you to explore more remote areas confidently! Happy shopping!
---