Best Fat Tire Electric Bikes 2023
Introduction
The electric bike is a modern type of vehicle that has made great strides over the years in terms of achieving greater speed, efficiency, and convenience. However, nothing could beat the sheer feeling of luxury cycling than riding on fat tire eBikes which makes you traverse challenging trails and terrains with ease.
In this blog post, we will take a look at what exactly are fat tire electric bikes, why they are so popular today in the market along with their legal restrictions and maintenance tips. We additionally list the best fat tire electric bikes available in the market for 2023.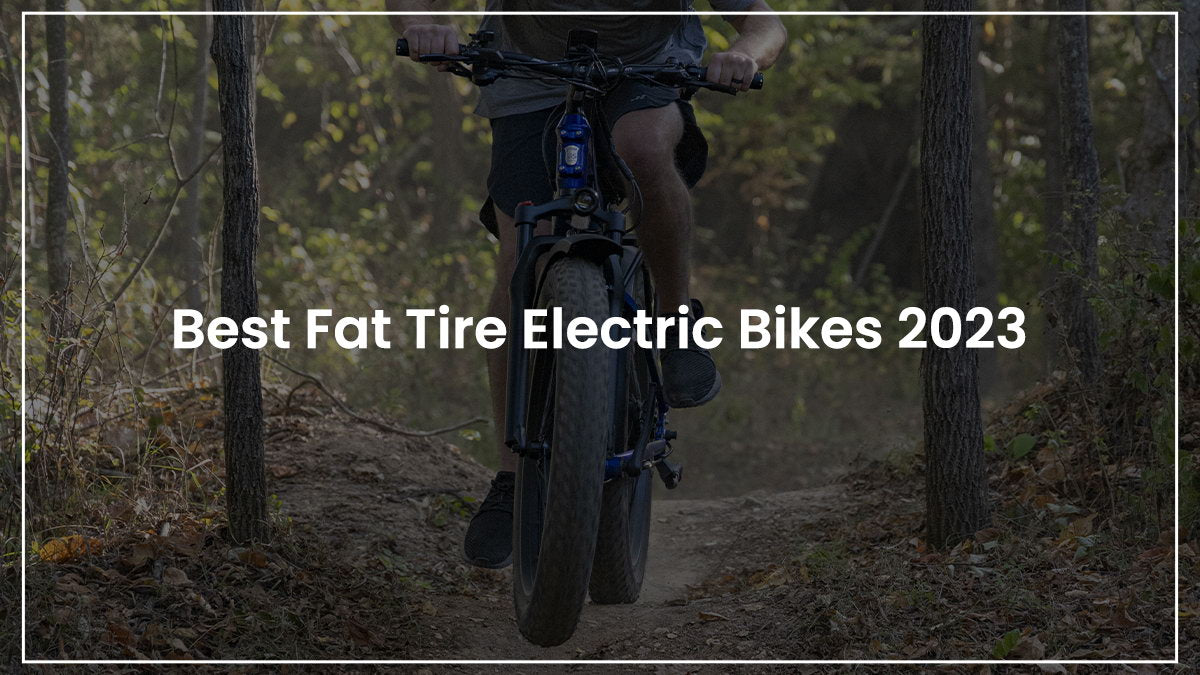 What Is A Fat Tire Electric Bike?
A new type of motorized bicycle, also known as an e-bike or power-assisted cycle (PAC), has become popular in recent years. An e-bike or electric bicycle is a motorized bike featuring an auxiliary motor powered by either batteries and/or pedals that allows it to travel faster than traditional bikes on level ground at speeds of up to 28mph with minimal pedaling. It is a great form of transportation for those who are looking to get around without needing to own or ride in traditional vehicles such as cars, buses, and trains thus making it an eco-friendly choice for short trips (under 100 miles).
Fat tire electric bikes are a special type of eBike characterized by large and wide tires which are usually 4 inches or more in width, offering greater shock absorption while riding on rough terrain. The tires are usually composed of a strong and dense rubber material with deeper knobs to effectively grip the ground. As the fat tires are highly efficient in low-pressure situations and provide great balance while riding on rugged tracks, these bikes have become the popular choice of riders looking for an amazing mountain biking experience.
Difference Between The Fat Tire Electric Bikes And Regular Ebikes!
It is essential to look into the primary differences between fat tire electric bikes and regular eBikes before investing in one. Here are some of the most noteworthy distinctions:
·
Design:
The most distinct feature between the two types of electric bikes is their design. In general, to differentiate a fat tire bike from an ordinary one you can easily look out for its wider tires which are typically greater than 4 inches in width. This wider tire inserts a solid grip to the ground especially when riding on muddy and gravel paths, thus providing great stability while turning and cornering.
In contrast, regular bikes are designed with narrower tires (2 inches) which provide a smoother ride on flat and even terrains but are less suitable for riding in tough terrains as they immediately sink.
·
Weight:
As mentioned above, fat tire bikes have wider tires than regular eBikes meaning that these electric bikes would be more heavily weighted. This is mainly due to the wider tires are often made up of materials such as rubber, foam, and metal alloys that potentially weigh sharper than regular tire material (2-3 pounds heavier).
·
Horsepower:
On top of their obvious differences in design, fat-tire electric bikes are designed to offer greater power than regular bikes. This is because the larger-sized wheels can generate momentum more quickly and retain it for a longer period thus providing an increased pedal speed.
Even when traveling at relatively low speeds, fat tire electric bikes maintain a greater uphill climbing capability thanks to their powerful yet energy-efficient motors which are typically 500-1000 watts in size (compared to regular eBike's 250-350 watts).
·
Performance:
Fat tire electric bikes are engineered to provide more traction and flexibility when riding in challenging terrains compared with their regular counterparts. This superior performance of Fat tire ebikes allows riders the freedom in exploring tougher trails without having to worry about their safety as the wheel is less likely to slip when cornered.
Additionally, riders can experience greater speed and acceleration with its 500+ watt motor that offers improved battery life at sustained levels allowing for longer rides.
Are Fat Tire Electric Bikes Worth It? (Top Advantages)
Is investing in a Fat Tire Electric Bike worth it? Absolutely!! These machines not only make getting around town convenient, but they also offer an array of advantages that are truly invaluable. Want to know what benefits you can get out of your investment? Here are a few stellar advantages of owning one:
·
Speed And Power
Fat tire eBikes offer greater speed making them ideal for riders who want to go further faster on tough terrains. The larger motor size of 500+ watts can accelerate the bicycle up to 28mph comfortably and offer greater torque when going uphill even at slow speeds, making them suitable for all terrains including rough terrain such as mud, sand, or snow. With its intelligent motor and battery management system, it offers riders up to 100 miles of range per charge.
·
Secondary Functions
Most fat tire electric bikes come with various assistive features such as adjustable speed settings which allow you to switch safely between PAS modes and throttle functions smoothly.
Its LCD monitors the bike's settings such as its speed, battery life, and wattage so you can easily control it without losing grip of safe handling during your ride
·
Comfort
Fat tires are specifically designed to provide greater comfort and flexibility while riding on uneven terrains.
Additionally, many models feature adjustable saddle settings that can be raised or lowered depending on the rider's height as well as handlebar customization options allowing you to tailor the bike to fit your size.
·
Durability
Using fat tires also offers greater durability for any type of ride as their meaty treads made from rubber and steel can withstand extreme pressure while still providing lots of traction on tough terrain. This makes it suitable for longer rides as you don't have to worry about getting punctured or having bald tires anytime soon.
·
Versatility
Fat tire bikes come in many different sizes and shapes, making them attractive to both mountain bikers and recreational riders alike. Utilize the bike's PAS settings for a leisurely breather or switch on its electric throttle feature when seeking greater speed in your ride; either way, you can now take your biking experience to a whole new level with the ability to traverse terrain never explored before.
Things Worth Noticing While Using Fat Tire Electric Bikes!
Although fat tire electric bikes are designed for off-road adventures, you should still abide by the traffic regulations set by your local government when riding on public roads. Here are some additional tips to take note of:
·
Legal Restrictions
In many states, there is a law that sets an appropriate speed limit while biking or riding electric bikes of any kind on public roads. Make sure that you consult your local regulations when using fat tire eBikes to not risk receiving a fine should the authorities find out if it is used beyond its legal limits.
·
Safety Tips
Since fat tire electric bikes can reach high speeds, it is essential to apply safety practices during your ride such as wearing a helmet and following recommended speed limits.
Additionally, do take caution while handling rough terrain with sharp turns and elevate curves when accelerating as your increased speed makes you more vulnerable to accidents.
·
Maintenance Tips:
Similar to other bicycles, proper maintenance should be regularly required for electric fat tire bikes to maintain their maximum performance such as regular lubrication of the chain, and checking for tire pressure and battery life span.
As such, making sure that you service your fat tire e-bike regularly and taking proper precautions to mind its mechanical parts can hugely benefit the usage of this motor-powered vehicle for years.
·
Battery Health:
Unlike traditional bicycles, fat tire electric bikes are equipped with battery packs that require periodic charging to maintain their full functionality whenever you're on the go; as such it is important for owners of these vehicles to understand how their battery works and to take good care of them for prolonged use.
Check the battery's charge levels regularly as well as its overall condition after every ride where necessary repairs or replacements should be done promptly when needed.
·
Buy Genuine Parts:
Electric bikes are powered by internal batteries and motors; as such it is extremely important to refer exclusively to proprietary parts for any maintenance of the bike. Determining whether a mechanic or vendor uses third-party components might mean investing more money later on repairs, making it a wiser option to make sure that you purchase genuine parts when replacing certain components.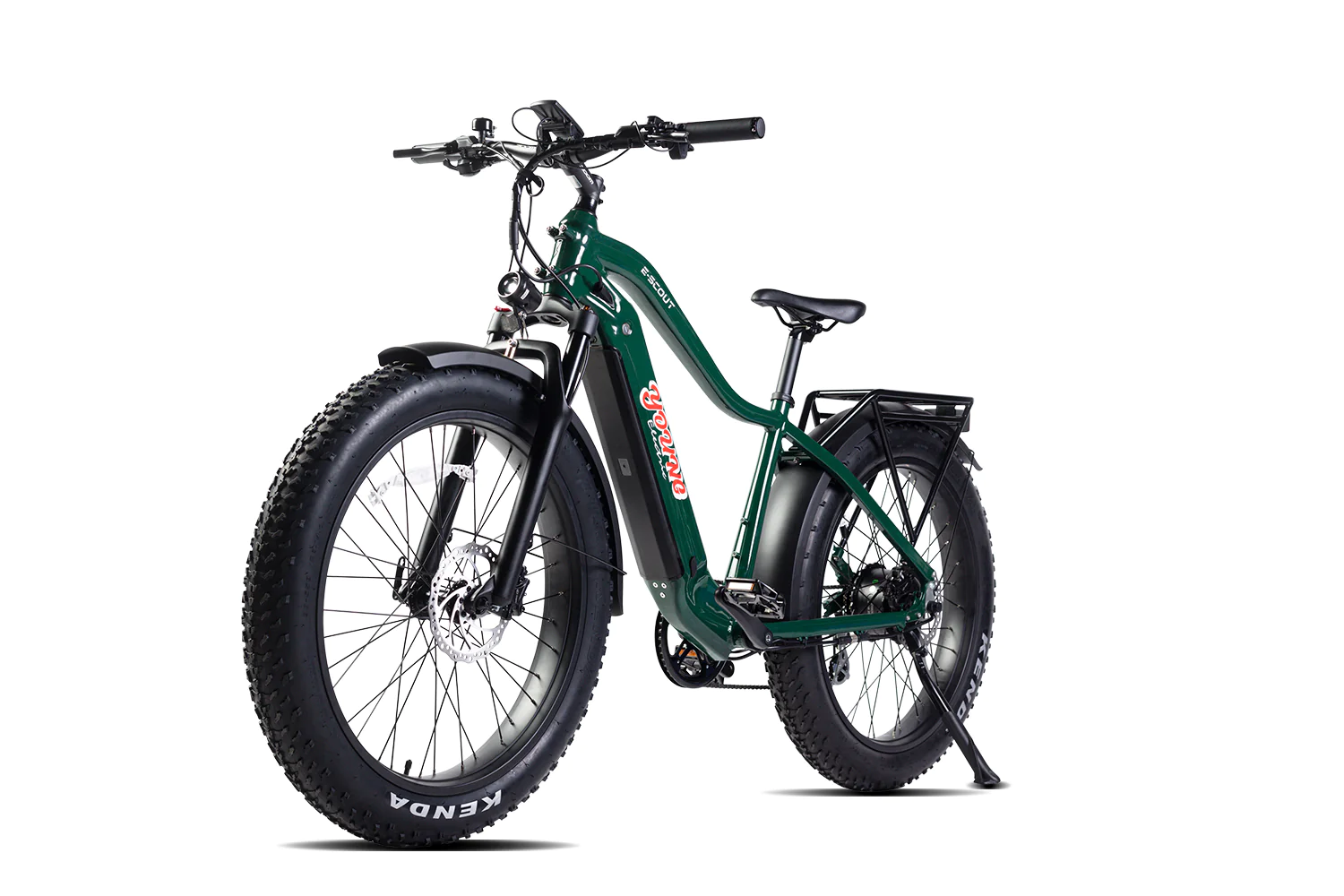 Top Fat Tire Electric Bikes For 2023!
YoungElectricBikes offers the best fat tire electric bikes available in the market today aiming to provide the best cycling experience for their customer. Here's a look at some of our leading models:
Impossible things are made possible with the ultra-modern Young Electric E-Scout 750W 26'' Fat Tire Off-Road Ebike. Superbly built and engineered, it feasts your eyes with its aluminum alloy frame that is finished in Armor Black or Vintage Green and Klein Blue.
With speeds up to 28 MPH by pedal boosts for Class 3, a 5-level electric assist mode, a Shimano 7-speed shifter, and hydraulic disc brakes, it is ready to tackle the most extreme terrains.
Plus powerful LG Lithium-ion battery and a 3.5" color matrix HMI display for full control add a greater rider experience to this majestic e-bike that also features 15 LUX headlights, front & rear fenders, and removable rack ready.
Getting up to 60 miles in a single range, this Electric 750W e-bike will help you achieve your ultimate biking goals efficiently.
Immerse yourself in the power and performance of E-Explorer's 1000W motor which is designed to conquer all terrains. The bike boasts a bright 100 LUX headlight, speed sensor pedal technology along with 5 levels of riding modes, thumb lever throttle, and a 3.5" color matrix HMI display to track your journey!
This bike also comes with various frame sizes from S/M/L, an LG lithium-ion battery for long range up to 90+ miles (dual battery type 48V/30AH), Shimano 7-speed shift, and TEKTRO Hydraulic disc brakes for superior control. Finally, rest assured of its durability - featuring 6061 Aluminum frame material by LG cells along with 330 lbs max load capacity!
Conclusion
As electric bikes become more prevalent today, fat tire electric bikes are the perfect choice for those looking to explore tough terrains and have an awesome mountain bike experience.
Not only do they offer greater power enabling them to travel faster, but their increased traction also provides a greater balance and comfort for users riding on rough terrains. It's also worth mentioning that YoungElectricBikes offer some of the best fat tire eBike models so make sure you check out our website today. Happy biking!
---