E-Bike Safety Tips: How to Ride Safely and Responsibly
E-bike rides are convenient and easier for this busy world but they are not always safe for the riders. Sometimes it can be a cause of death and deep injuries due to lack of enough protection.
The first and foremost rule is learning to operate the e-bike properly. Otherwise, it won't be safe for you to use the bike for commutes or even leisure riding. You can take experts' help to get better training. But is it enough to ride safely?  
Obviously no! Only this won't help you out in the long term. There are more safety rules you should know if you are an e-bike rider.
Don't you want to enjoy safe rides? Then without further ado, keep reading to explore more safety tricks for e-bike riding.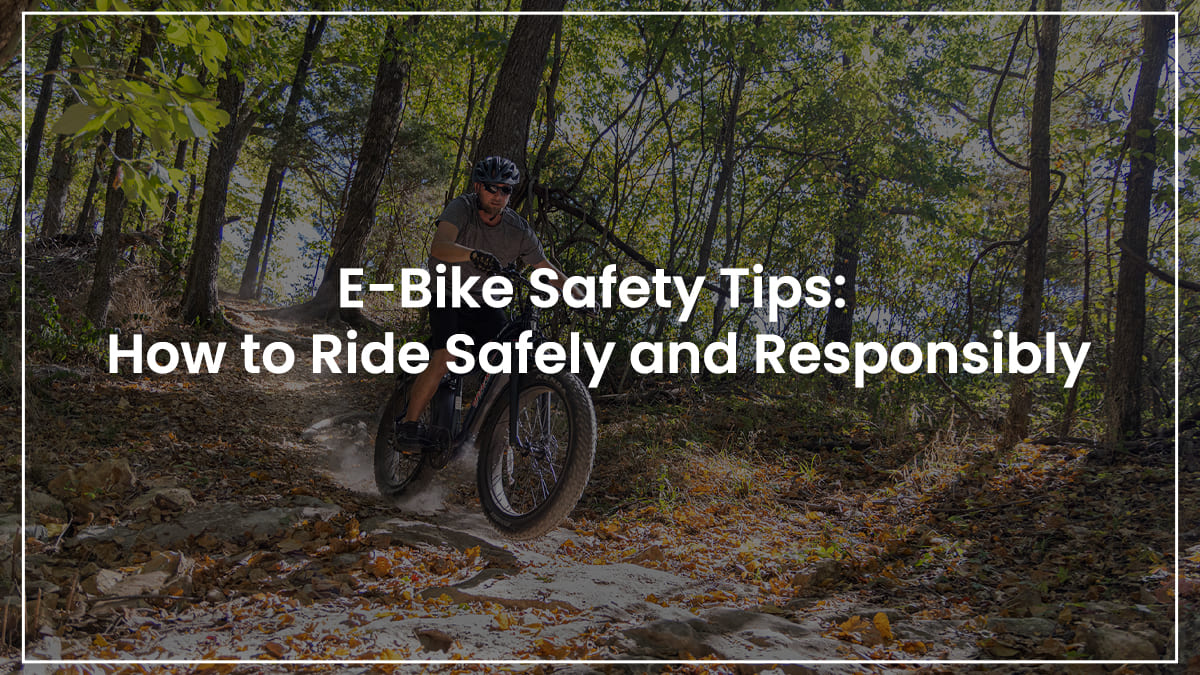 Why are safety tips important when riding e-bikes?
According to a study by the National Library of Medicine, the ratio of e-bike injuries is getting higher, with around 1.4 injuries per 1000 e-bikes every year. Unfortunately, most of them lead to high-life-risk situations or even death. Most of them are due to high speed, or not following basic safety instructions. But you can avoid these road accidents if you are aware of and follow safe ride tips.
Now the question is what safety tips should you follow for e-bike riding? No worries! Here you'll learn some basic guidelines to ride safely and responsibly.
A.
E-bike safety tips help you ride safely
While riding e-bikes, you have to be extra careful on the roads, which is a mandatory rule for all riders from teenagers to adults. Although e-bikes are easy, sadly they can crash on roads if you aren't noticing the movements of other vehicles. Also, never ride in a rush, it can cause major accidents and injuries.
Consider the weather conditions:
One of the most notable things for an e-bike ride is weather and temperature. Not all weather is suitable for e-bikes. For example, cold or rainy weather is quite risky for riding an e-bike, therefore, if it rains during your rides, stop riding immediately.  And try to avoid riding in cold weather outside, as it'll damage the batteries.
Note: Avoid riding your e-bike in wet weather because the tires might be slip on the watery roads and may cause collisions.
Take bike lanes for riding:
Instead of main roads and highways, you should ride on the bike lanes. It'll be safer and more convenient for you at the same time.
B.
E-bike safety tips help you ride responsibly
Avoid riding on sidewalks:
Sidewalks are generally for pedestrians, not for vehicles. Sometimes riders take the sidewalks to go faster. But it can hurt both pedestrians and riders. Also, it may lead to serious accidents. It's better not to ride on sidewalks to save others and yourself as well.
Follow the weight limitations:
If you take heavy loads on your e-bike more than it can hold, there are high chances of severe accidents as too much load may damage the frame and tires, thus causing injuries. You can find the weight limits in the manual and avoid loading your e-bike beyond the limits.  
Apart from these necessary safety tips, there are more to follow before and during riding. Do you crave for more? Then let's dive in!
Safety Tips Before Riding
A.
Get to know your e-bike first by reading your owner's manual
All e-bikes come with an owner's manual. We recommend not to run your bike without reading the manual completely.  You should follow every instruction they've mentioned in it, as they guide everything from installation to maintenance on the manual. What's more, take notes on the different parts and how they work. Otherwise, it'll be tough for you to operate the bike well in the long run.   
B.
Familiarize Yourself with Local Traffic Laws
After learning all about your bike, you need to know the native traffic laws.  Check if your area has any rules for e-bike riders for maintaining speed limits or riding on specific lanes.
C.
Inspecting the E-Bike (tire pressure, breaks, lights, and so on)
Whenever you're going on a ride, consider checking the tire pressure, brakes, lights, speed controller, and other technical parts of your bike. Besides, check the battery condition whether it's working or not. Also, don't ride with flat tires, broken lights, and defective brakes. It's necessary to make your ride safer because if your bike has any issues with these parts, it might crash on the road and cause injuries.
D.
Personal protective gear
●
Helmet
According to a study, head injuries take around 40.8% of accident injuries caused by e-bikes. And in maximum cases, not wearing a helmet is the major reason. For this reason, you must wear a sturdy helmet before your rides.
We are suggesting going with the Young Electric cycling helmet for regular use. It's the best in the market right now and gets most of the positive reviews from professional riders.
●
Wear brightly colored or reflective clothing
No matter if you're riding at night or day, you must wear something that makes you visible from afar. And it's mandatory if you're going on highways. As sometimes high-visibility clothing can save you from highway accidents and severe injuries.
Safety Tips During Riding
A.
Obey the local traffic laws
Most e-bike accidents occur when the riders decline the local traffic rules. Following native traffic rules strictly can help you to avoid accidents. All areas don't have similar rules, so familiarize yourself with the rules first as we've mentioned earlier, and then try to follow them when you're on the roads.
B.
Use hand signals to communicate
If you can give a manual signal to pedestrians while riding, it can help avoid injuries. Hand signals are important because it allows you to warn people when you want to stop, turn back, and slow down. So that they can be alerted and keep a distance immediately.
C.
Be aware of your speed at all times
Excessive and uncontrollable speed rates are also responsible for e-bike accidents. If you ride at a moderate speed, it will keep your bike well-balanced and save you from serious road accidents. Running bikes at a high speed may damage the ebike and can even risk your life. Thus, avoid high-speed bike riding for proper safety and secure your life.
D.
Being mindful of the surroundings
Firstly, always focus on the road and your bike movement. Avoid using mobile phones or other electrical devices that may distract you.
In addition, you might encounter pedestrians, vehicles, cyclists, intersections, possible danger and other difficulties on the road. In that case, you have to be careful for yourself and other people as well to ensure a safe bike ride.
Besides, always keep your distance from other vehicles and people on the road and think about safety first. Because if you ride without caring for other people or the surroundings, it will cause deep injuries for both you and them.
E.
Smoothly transitioning between pedal-assist modes
If your e-bike has options to choose between electric and manual modes, make sure to practice more and make the transition easier while riding. When the e-bike loses its power suddenly on the road, you need to shift to manual mode immediately.  Otherwise, it can lead to injuries and also increases the chances of death risks.
Besides these safety techniques, you might need to be extra careful while riding at night. Maintaining proper precautions can stop collisions and crashes. Let's learn.
Night Riding Safety
A.
Ensuring visibility
Night rides are risky because it's quite difficult to be visible. However, wearing reflective clothes can make you visible to the other people on the road. Also, wearing helmets with LED lights can help you to be visible. In that case, you can look into an ultralight waterproof bike helmet. Installing back and front lights is also recommended for night rides. For that, we suggest taking USB rechargeable headlights and LED tail lights due to their high visibility power and long-lasting service.
B.
Riding defensively
During night rides, you have to ride with a good defense mechanism. You have to be more aware of your surroundings and always take time to move forward slowly first.
Additionally, use a high-quality mirror to see the other moving vehicles for safety.
In addition to that, you should always wear a helmet that fits you perfectly. Check the helmet fittings before your ride, otherwise, it might fall down and it's not possible to fix it during rides.
Conclusion
That's all about the safety tricks to ride safely on e-bikes. We've included everything you should know to have a secure bike ride.
According to our research, you should use proper e-bike accessories to make your ride safer. Also, inspect the bike's health often and maintain it regularly to cure the problems faster.
Moreover, during the ride, you should obey the traffic rules as much as you can, make your bike is visible while riding on roads and be responsible with the speed and use signals to maintain a safe ride. 
In addition, choosing a reliable e-bike with modern features and a high-power motor can help you to avoid unwanted accidents. Check here for some premium quality e-bikes to ensure secure rides.
Enjoy riding and stay safe!
---