Electric Bike Classes - The Difference of Class1, 2 & 3
In recent years, bikes have become increasingly popular. They're easy enough to ride even for those who haven't ridden a bike since they were kids but fun enough for seasoned cyclists. The widespread adoption and continued use of e-bikes have the potential to increase bicycle usage across formerly unreached communities.
Electric bikes have great promise, but their expansion is being stifled by a lack of clarity over where and how they can be ridden. As an emerging technology, electric bikes need well-defined laws to govern their use and ensure market stability. Most people don't know that there are numerous categories of e-bikes, let alone what exactly do these categories represent.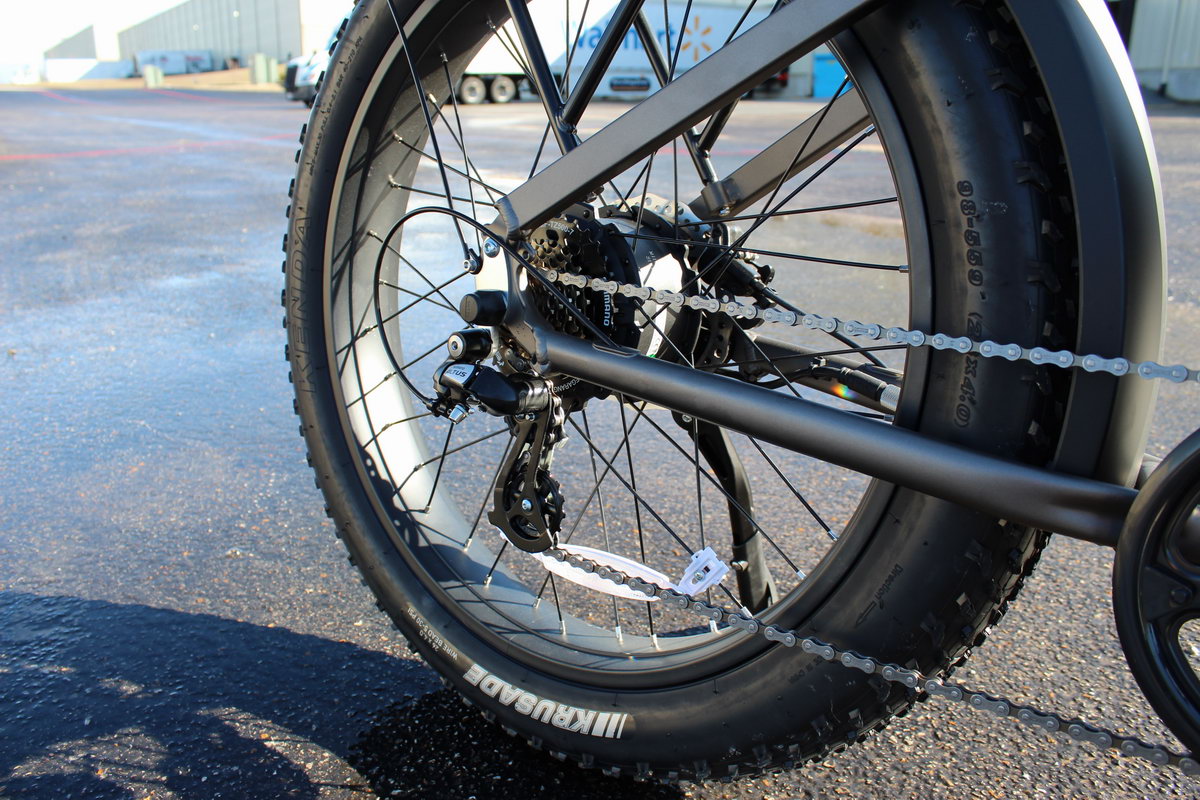 The Three Electric Bike Classes
By 2020, the e-bike industry and over half of US states have converged on a single (though broad) system of three classes: Class 1, Class 2, and Class 3. In spite of this, there is still some discordance between what online stores and manufacturers say about each category.
E-bike classes are the key to understanding the range of capabilities available in the e-bike world. With different classes, riders can select an e-bike that best suits their needs. Whether it's a lightweight, easy-to-maneuver Class 1 e-bike, or a powerful, high-speed Class 3 e-bike, riders can quickly find an e-bike that is tailored to their needs. Not only do the classes provide an easy way to compare different e-bikes, but they also make it easier for riders to select the e-bike that is the best fit for their riding style.
If you are concerned about whether your e-bike complies with local rules, you should look into it. The chances of getting pulled over for riding an electric bike in the incorrect lane or going 22 mph in a bike lane are low (especially if it looks like a regular bike). However, it's preferable to be safe than sorry.
These three groups are described as follows:
Class 1: Class 1 e-bikes are those that just have pedal assistance and no throttle, and they can only go up to 20 mph with pedal assistance.
Class 2: In the second category are throttle-assisted e-bikes that can reach speeds of up to 20 miles per hour.
Class 3: Class 3 e-bikes are those that can only be ridden with a pedal assist and have a top-assisted speed of 28 mph.
A Class 1 E-bike
A class 1 E-bike can be defined as a pedal-assisted electric bicycle with a low-powered motor that boosts the rider's effort up to 20 miles per hour and then cuts off.
The DMV of California defines a class 1 e-bike as an electric bicycle that can reach a maximum speed of 20 miles per hour while the rider pedals in addition to using the electric motor. The DMV also provides specifics on e-bike motors, requiring that they produce less than 750W.
Class 1 e-bikes are allowed on bike lanes, highways, multi-use trails, and bike-only paths in several areas just like regular mountain bikes and pavement bikes. We think that Class 1 pedal-assist e-bikes should have the same rights and obligations as traditional bikes and should therefore also be permitted on non-motorized mountain bike trails just like in Europe.
A Class 2 E-Bike
It's a low-speed, throttle-assisted electric bicycle that has a motor solely for propulsion and CANNOT provide aid once the rider reaches 20 mph. Class 2 electric bikes can only go 20 mph, but their throttles are operational even when the rider is not pedaling. Yet, if you choose to pedal, the motor will still help you out. Class 2 e-bikes typically feature throttles in addition to electrically assisted pedaling.
Class 2 e-Bikes can usually go to most places a regular bike can, but some states and cities are putting up extra rules. Though e-Bikes are generally permitted anywhere a regular bicycle is, Class 2 vehicles may not be appropriate for single-track mountain bike routes because studies have shown that the throttle-actuation causes more physical harm to the terrain. Class 2 might be better for OHV trails that are meant for more rugged off-road vehicles and can be used by more than one type of vehicle.
A Class 3 E-Bike
This classification is a bit tricky. Class 3 e-bikes can go up to 28 miles per hour and must have a speedometer, but they may or may not have a throttle. It depends on what the state says. In California, for instance, Class 3 e-bikes are not allowed to have throttles at all. In other states, throttles are allowed as long as they only go up to 20 miles per hour, while pedal-assisted electric power goes up to 28 miles per hour.
Most states allow you to ride a Class 3 e-bike on the road or in a bike-only lane on the road shoulder (so-called curb-to-curb). But you can't take them on bike paths that aren't on the road or on multi-use trails like the ones in a park that are shared with pedestrians.
Young Electric Vie 27.5'' Step-Through
With a 350W motor for optimal power and performance, the Young Electric Vie 27.5" Step-Through bike is an incredibly comfortable electric bicycle. It sports a Shimano 7-speed gearbox with a torque sensor for accurate power delivery and smooth shifting. This bike is excellent for long rides because it has a riding range of up to 90 miles and a top speed of 20 mph. It is a fantastic option for cyclists searching for a comfortable, long-range electric bike.
Young Electric E-Scout 750W Off-Road E-bike
Young Electric's E-Scout 750W Off-Road E-bike has 26" fat tires, an all-terrain riding range of up to 60 miles, and a top speed of 28 mph. It is a 750W Class 3 E-bike that is ideal for navigating challenging off-road terrains. For optimal safety and control, it has a 7-speed Shimano gear system, a Shimano rear derailleur, and strong hydraulic disc brakes. No matter where you're heading, the Young Electric E-Scout 750W Off-Road E-bike is sure to give a smooth, comfortable ride thanks to its strong motor and high-end components.
Young Electric E-Explorer 1000W Long Range Electric Hunting Bike
Powerful and adaptable, the Young Electric E-Explorer 1000W Long Range Electric Hunting Bike is ideal for outdoor pursuits like hunting. This Class 3 e-bike, which has a top speed of 28 mph, a dual battery option, and 26-inch fat tires, is ideal for navigating rough terrains. For conquering hills and long-distance trips, the 1000W motor has plenty of power, and the dual battery option gives you the flexibility of a longer range. The Young Electric E-Explorer 1000W Long Range Electric Hunting Bike is the perfect option for your outdoor excursions thanks to its power and convenience combo. 
Which Class E-Bikes Stand Out The Most?
Whatever your reasons for wanting an electric bike, there's a model out there that will suit your demands. Classes 3 e-bikes provide significantly greater aid than classes 1 and 2, while classes 2 e-bikes provide only slightly more support than classes 1. Class 3 is the most powerful and is recommended if you intend to use your e-bike for long distances or steep inclines. Class 1 or 2 would be better suited if you want a more relaxed journey.
Electric Bike Restrictions
On flat ground, the maximum speed for an electric bicycle in most states is 20 miles per hour, and the motor output must be no more than 750 watts. Aside from federal limits on things like horsepower and top speed, each state has its own set of rules. In some places, like California, you need to be 16 years old and have a driver's license to ride an electric bike. Also, several states need electric bike registration. Finally, keep in mind that electric bikes must follow the same traffic regulations as regular bicycles. Some examples are obeying traffic lights, giving way to pedestrians, and using bike lanes.
Recap
E-bikes are rapidly gaining popularity, and there is a plethora of different models to choose from. Class 1 electric bicycles have the least amount of power and are the least expensive; they can reach a top-aided speed of 20 miles per hour. Class 2 e-bikes have a more potent motor and can get up to 20 miles per hour. The fastest and most expensive e-bikes are Class 3 models, which can reach speeds of up to 28 mph with pedal assistance.
It's not just the price of the bike itself that needs to be factored in, but also insurance, repairs, and battery replacement. You should also check to see if the bike you want complies with any requirements in your area.
You can go quickly and lightly in the environment with any kind of e-bike. There is a wide speed range available, making them ideal for both leisurely rides in the park and speedy commutes to the office. Overall, e-bikes are a fantastic means of transportation; with so many categories to choose from, you're sure to discover the ideal model for you.
---