Fat Tire Folding Electric Bike: Everything You Need to Know
Folding e-bikes are common to teenagers and mountain bikers because it's getting tough to park the bikes in open places due to the fear of theft. This is one of the alarming issues US e-bike riders are facing frequently, but they couldn't find any solution to it. And that's why they're attracted more to folding electric bikes.
Besides, along with the foldable capacity, you should consider the fat tires that can go through all terrain types while choosing e-bikes. It's exciting to get a comfortable e-bike with a convenient design, isn't it? But it won't be wise to get a fat tire folding electric bike without some professional advice.  
We know it's tiresome to find all the information together on your own to buy the suitable one for you. So here we'll give you a complete buying guide for folding fat-tire e-bikes. Now without thinking more, let's get into the features and functions of these bikes.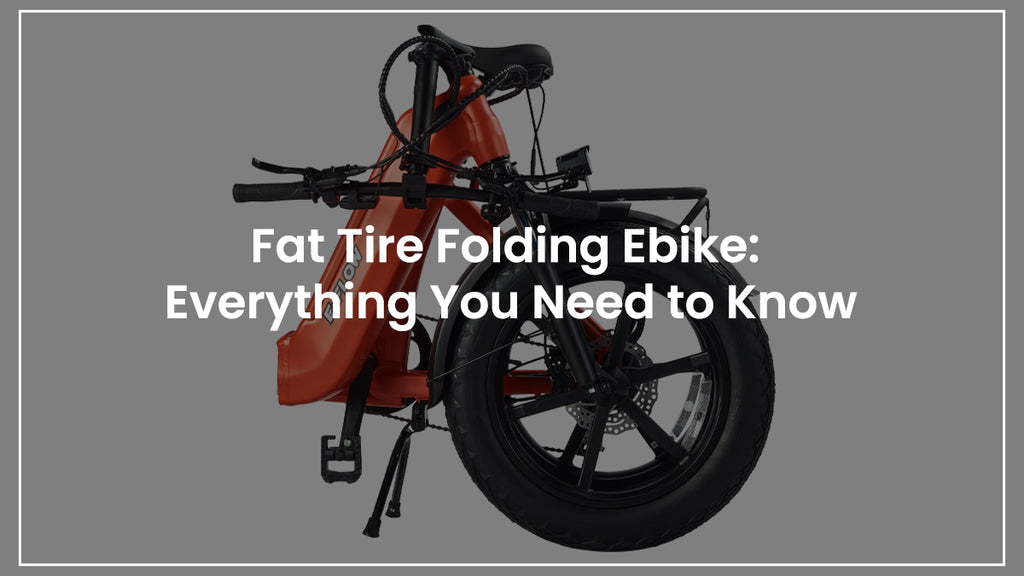 How to choose a fat tire folding electric bike?
Choosing the perfect fat tire folding e-bike is important to ensure a smooth and comfortable biking experience. So, you need to consider some must-have features to find good quality fat tire folding e-bikes.
●
Tire Size and Type
A durable e-bike should have fat and wide tires. Around 40% of e-bike accidents happen due to riders falling and 32% of injuries occur from collisions. In this case, fat tire helps to balance your ride and prevents unkind circumstances like falling down suddenly and collision with other vehicles.
Yet, the perfect size of a fat tire is 20 inches×4.0 inches, which is compact and stable. It makes your journey more comfortable and guarantees a consistent ride. In that way, we find Young Electric E-Flow All-terrain Fat Tire Folding eBike is a better choice.
Note: E-flow includes 20 inches×4.0 inches all-terrain fat tires.
●
Folding Capacity
 The necessary thing to consider in a foldable e-bike is the folding and unfolding system. If you can't fold or unfold it easily, it'll take more time and energy. Therefore, you must choose a folding e-bike with smooth fold and unfold capacity.
●
Battery Volume and Riding Range
When it comes to e-bike riding, it's compulsory to understand the riding range. It depends on how long your e-bike can run with a single battery charge. In that case, you should check if the battery is capable enough to cover the enough distances you need to travel with a one-time charge. 
However, you should choose a 48V/20Ah and 960Wh lithium-ion battery to reach more than 90 miles with a single charge capacity. This battery volume is perfect for mountain bike tours.
Note: E-flow offers a Bafang battery with 48V/20Ah and 960Wh capacity and covers 90 miles with a one-time charge.
●
Motor Power
Most riders often worry about the motor power of a folding e-bike because they think it doesn't have strong motors. However, some brands come with high-quality 500W to 750W motors. You have to remember that the better motor your e-bike has, the smoother speed you'll get during rides.
Note: E-flow uses a 750W rear hub motor that ensures a speed from moderate to high.
●
Quality and Performance
For a long-lasting riding experience with a folding e-bike, you need to pick the one with premium quality because it requires frequent folding and unfolding sessions.
Poor-quality foldable e-bikes include weak folding and installation mechanisms that can be risky for new riders. Therefore, look into the bike forums and social media groups to get an authentic review before buying e-bikes.
●
Type of  Tire 
From daily rides to long trips, folding bikes with fat tires can be the utmost option for all. You must be thinking about whether the folding e-bikes can handle all terrain or not, And surprisingly it does. It can help you control the e-bike better on rough grounds without any hassle if you get the folding bike that comes with wide and fat tires.
●
Frame Materials
The next thing you should think about is the frame materials. Mostly, aluminum alloy is the best material for folding e-bike frames as it's durable and comparably light in size. And among all the alloy materials, the 6061 is the most premium and durable one that makes the frame stronger and more stable.
Note: E-flow has been designed with a 6061 aluminum alloy frame.
●
Suspension and Brakes
A foldable e-bike with suspension is essential for mountain bikers. Most folding e-bikes have front suspension forks that make pedaling easier and let you ride on uneven roads smoothly.  Along with these, a good-quality folding electric bike should have great disc brakes for fast and comfortable braking and help to avoid riders falling or other risks.
●
Price
Any rider can't afford folding e-bikes with a high price range. Meanwhile, they need to buy some other stuff to keep the foldable bike well-maintained. In that case, looking into the price and making a budget before buying is mandatory.
Here we recommend Young Electric because it provide costomers with the most affordable folding e-bike with fat tires in the market. Not only the price is budget-friendly, but also it offers a premium quality service.
These features are enough to consider for a suitable folding e-bike. But do you know how this kind of e-bike works? Or what are the benefits of a fat tire folding electric bike? In the next part of our in-depth discussion, we'll help you understand the fat tire folding e-bike better.
The main functions of a fat tire folding electric bike
Only knowing features won't be sufficient to ride fat tire foldable e-bikes. Apart from those features, you should learn the functionality of a folding e-bike with fat tires.
●
Motor Assistance
These electric e-bikes offer pedal and motor assistance at the same time for better riding experience. You can switch into any assistance mode according to your need. This makes the riding comfortable for all riders.
●
Pedaling Capacity
Along with motor power, it also comes up with a comfortable pedaling capacity that ensures stable riding on bumpy roads. Moreover, you don't need to be highly energetic to run these e-bikes. You just have to focus more on balancing your bike with the road conditions.
●
Foldable Design
The design is so convenient that you can carry it everywhere-schools, parks, restaurants, offices, and mountain vacations. Also, the adjustable seat capacity of these bikes is the cherry on top. It also helps to assemble your bike after every time you unfold it.
●
Extended Cargo Options
As folding bikes are designed for both mountain and commute biking, they provide an extended loading capacity. If you choose from a premium brand, usually they can hold up to 300 lbs load at a time on the rear or front baskets and racks. Although It's quite challenging to get this load capacity on a folding e-bike, Young Electric E-flow offers a load capacity of 330 lbs.
●
Promotes Physical Activity and Fitness
Folding e-bikes are convenient to take everywhere so you can keep exercising even when you're on vacation or don't have time to go to the gym. This eco-friendly transport makes your holidays more enjoyable.
●
Great for a Mountain Tour
The difficult part of the mountain tour is to roam around the nearby areas. Other vehicles can't reach some narrow roads in between the hills. But fat tire folding electric bikes can take you there as they are compact in size and support you with better comfort during mountain trips.
As of now, you've learned the features and functions of these e-bikes. Besides that, we'll share some easy buying tips for fat tire folding e-bikes that might help you choose the best one.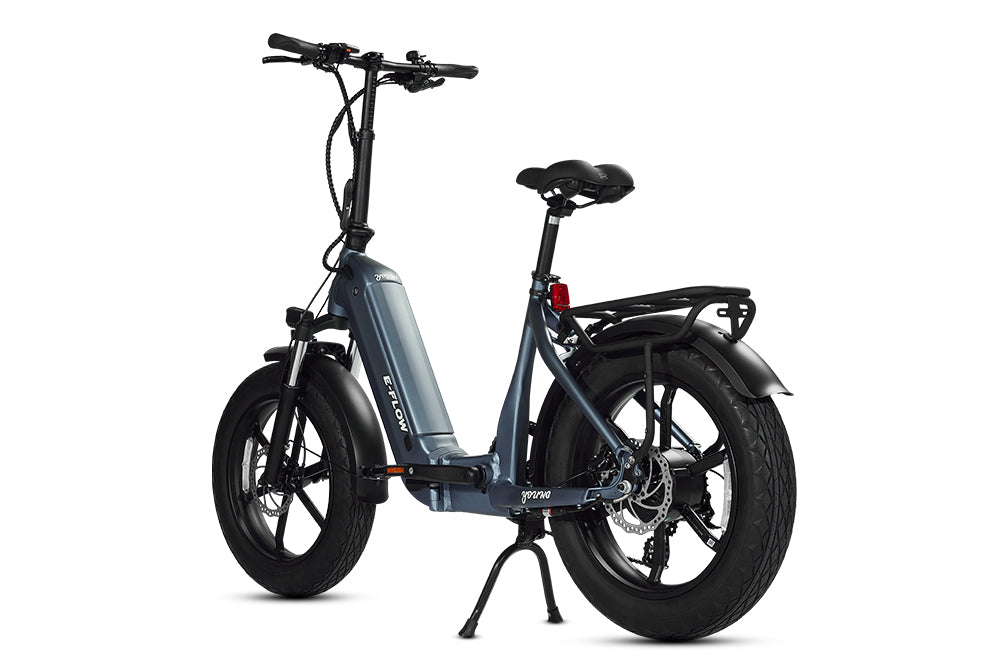 Buying Tips For A Folding Fat Tire Electric Bike
With our long years of experience, we've gathered some buying techniques for these e-bikes that will help you get a durable folding e-bike with fat tires.
Here are the top buying tips-
Ensure you're choosing a perfect e-bike with adjustable seat capacity and robust construction.
The tires should be fat enough to take the hassle of rough terrains without puncturing them.
Pick the folding e-bike with a rear hub motor that serves longer than other motors.
Check the motor and battery power compatibility because if these don't match, they can cause sudden accidents or brake failure incidents.
Choose the one with both pedal assist and motor assistsystem, so that you can shift into any mode that goes with the circumstances.
Look into the weight because it needs to be portable so that you can carry it easily.
Select the e-bike with a suitable battery range and power.
Though we've covered everything about folding fat tire e-bikes. Is there more to know about these electric bikes? There are some frequent questions that riders often ask while taking these e-bikes. And we're here to answer all of these queries.
Folding Bike FAQs
●
Is a folding bike good for long-distance tours or rough terrain?
Yes. they are suitable for both long-distance rides and rough terrains because most foldable e-bikes come with fat tires and robust frame materials.
●
Can you upgrade my fat tire folding bike?
Yes. If you are professional enough on e-bikes, you can upgrade the fat tire folding bike by changing the battery, replacing the motor, and adding lights, mirrors, and other accessories accordingly.
●
Are folding bikes as durable as traditional bicycles?
Yes. In many cases, folding bikes are more durable than traditional bicycles. They can hold an extra load besides your weight. And also it comes up with stronger frames than regular bicycles.
●
Do folding bikes need tools for installation?
Yes. You'll need Allen hex keys, a small torque wrench, bike grease, and a pump. If you always take folding bikes for long tours, it is also recommended to carry some basic tools for unexpected needs.
Conclusion
After all, we've covered all the things you need to understand about the fat tire folding electric bike. Thin-tire bikes are okay for regular rides or exercise, but not okay for the rough terrains. In that sense, fat tires are great for all terrains.
Folding bikes are easy-going for all ages. So taking an e-bike with folding capacity and fat tires will be the best decision for professional and regular riders, and also for mountain bikers.
We've already recommended Young Electric E-flow due to its portability and comfortable adjustments. But if you want to explore more e-bikes with fat tires, then click here to find regular fat-tire electric bikes. 
---