How To Choose A 1000W Fat Tire Electric Bike
Introduction
Are you looking for an enjoyable and earth-friendly form of transportation? Then why not opt for a fat tire electric bike? These powerful ebikes are designed to tackle tricky off-road terrain without issue, so your fun ride won't ever have to be put on pause. 
When shopping for your new set of wheels, make sure it's sufficiently powered to handle whatever you challenge it with! Are you ready to experience some serious fun and thrills? Get yourself an electric bicycle - perfectly equipped for conquering inclines, bumpy terrains, and a wild adventure of your own! Consider a 1000W fat tire e-bike.
It may not be as easy finding the perfect match as one might think, but with our helpful guide, you're sure to find the right 1000W electric fat tire bicycle for your desires.
Our overview simplifies the selection process, giving readers easily digestible instructions on how to make a knowledgeable decision!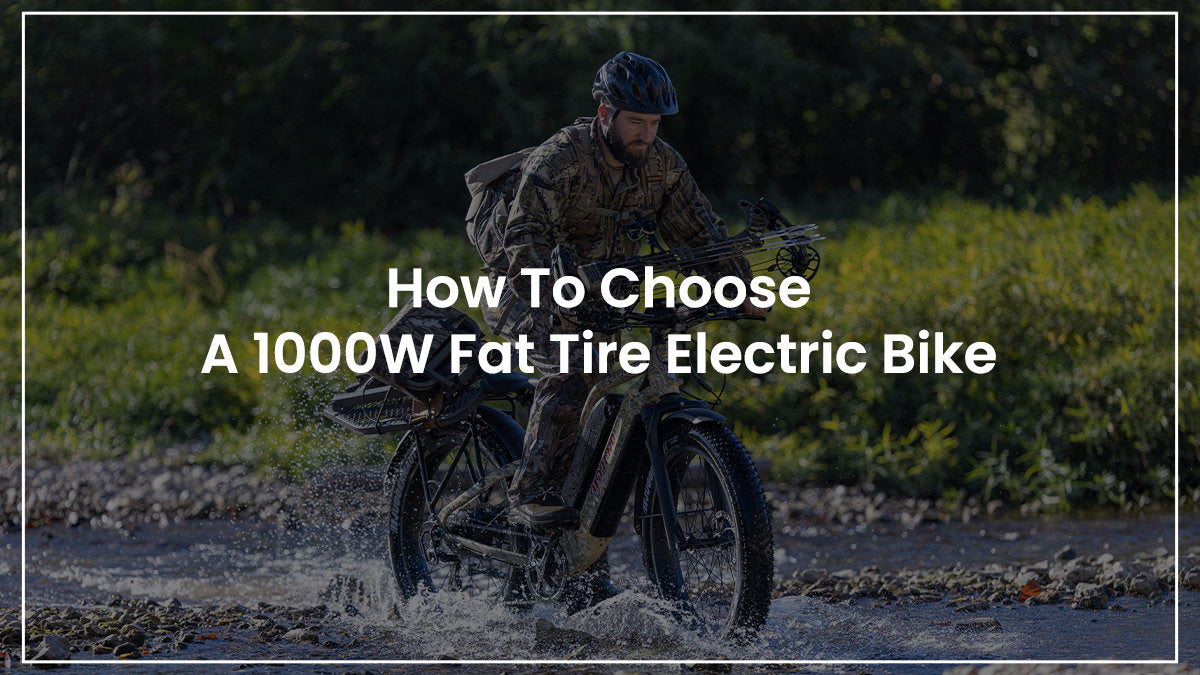 Importance Of Choosing The Right Bike!
It is all too easy to assume that an electric bike will offer a smooth ride, no matter the terrain. However, this isn't always true - if you're stuck with ill-suited wheels on hard uphill or rough tracks, your journey could take a turn for the worst.
Buying an electric bike requires ample research and consideration, especially when it comes to double-checking its power capabilities as well as the quality of materials used during production.
Invest your time into selecting wisely - this will guarantee maximum satisfaction from your electric bike in the long-term.
Whether you're looking for an electric bike to commute, explore new places, or just have a bit of fun on the weekend - doing some research first and making sure that your choice matches up with both your budget and needs is key!
What Does 1000W Mean For An Electric Bike?
Motor size is represented in Watts (W). Wattage or power relates to the overall output of an electric bike motor and affects how well it can handle different terrains.
Generally, higher-wattage motors provide more power and better performance on off-road terrain which is why they are so popular with fat-tire bike riders.
For example, a 1000W motor will be able to handle hills or uneven roads far better than one with a lower wattage. At YoungElectricBikes, our fat tire e-bikes come fitted with 750W or 1000W motors, depending on the terrain you anticipate riding in as well as your budget preferences.
Another thing that is important to note about the wattage of an electric bike motor is the maximum speed you can reach, and high-wattage motors enable the rider to go faster than lower-powered ones. If speed is a priority for you, then getting an electric bicycle with higher wattage can be preferable. 
Factors To Consider When Choosing A 1000w Fat Tire Electric Bike
Recent years have seen the e-bike market booming, with many different bike styles and motor sizes available. To narrow down your search and make sure you buy an electric bicycle that meets your requirements, here are ten factors to consider:
1) Battery Life:
The battery power of an electric bike plays a huge role in defining its overall performance. For maximum range and reliability look for something like lithium or lead-acid batteries with at least 48 volts rated capacity at 15Ah, 20Ah is always better.
Unlike other types of bike batteries, these are designed to last for a few years with proper care and regular charging. Some electric bikes also come fitted with extra features such as magnetic chargers or USB ports - all depending on your budget preferences!
2) Motor Power:
The motor is the heart of any electric bike and it's essential that you choose one with a wattage adequate for your needs.
A 1000W rear hub or mid-drive motor is more than capable as long as the battery is powerful enough too. While these are more expensive than their lower-powered counterparts, they offer the greatest performance and reliability.
3) Brakes:
Your brakes need to be strong enough so that you can come to a sudden stop if needed - especially when going fast on a downhill. Good disc brakes with mechanical or regenerative braking systems will provide the most power, while other types such as v-brakes are not quite up to scratch in this regard.
From our experience at YoungElectricBikes, it's best to opt for hydraulic disc brakes - as not only do these provide the most power but they are also much more efficient than other types of brakes.
4) Throttle:
How you control your e-bike can also affect its overall performance, so look for an electric bike with a great throttle. This allows you to adjust the speed of the motor and better manage battery usage depending on terrains or hills encountered during rides.
And to ensure that you have the smoothest riding experience, a twist throttle or thumb-operated device is better than any grip-type throttle.
5) HMI Display:
Most electric bicycles come fitted with onboard display for key statistics such as distance and speed as well as a timer and clock so you can keep track of ride time. The most advanced ones have color HMI displays with special features such as satellite navigation maps, phone charging ports, or even wireless Bluetooth technology for hands-free audio, etc. Therefore, for all-around convenience and safety, look for a bike with integrated display.
6) Frame:
The frame should be both lightweight and strong, but not too bulky as this will increase the overall weight of your e-bike impacting performance on off-road routes. Steel and aluminum alloy frames are highly recommended as these materials combine strength with lightweight characteristics, resulting in improved reliability without compromising performance abilities.
Just remember, when choosing a frame size, try and go for something close to your actual body measurements as this will provide you with the most comfortable riding experience.
7) Extra Features:
Finally, some bikes come fitted with accessories such as lights, mudguards, and rear racks for carrying items. These could be worthwhile additions depending on your budget preferences or anticipated usage of the bike - so factor them into your decision when making a purchase!
Besides, you could also check out our range of accessories for extra comfort and convenience when you ride.
What Decides The Price Of A 1000W Fat Tire Electric Bike?
Are you looking for a 1000W Fat tire electric bike and wondering what determines the price of it? The factors that determine the cost of different types of bikes or e-bikes are varied.
Depending on features, quality components and specifications such as power, battery life, and other elements help create an electric bike's final cost.
One of the main factors that drive the prices for 1000W Fat tire e-bikes is their power output (measured in watts). Stronger bikes usually have more powerful motors and batteries, which are necessary for heavy-duty riding.
In the case of 1000W e-bikes, this demand is met with larger weight components such as a dual battery system, allowing the rider to move quickly on long trips or handle heavier loads while tackling rough terrains.
Change in battery and motor components also affects how much a 1000W fat tire electric bike stands out from other models, and features like hydraulic systems and enhanced suspension increase the overall cost of an electric bike.
Additionally, attractive aesthetics such as custom-designed frames or top-of-the-line components like disc brakes can also boost the price to cater to more luxurious looks and performance boosts.
Another factor behind the cost of 1000W Fat tire electric bikes is the quality of the components. Higher-grade components like durable spokes, grips, and tires as well as good brakes are more expensive than their lower-tier equivalents due to better performance when it comes down to withstanding pressure and having greater control. In other words, higher wattage means a bigger investment in components which can naturally increase the price of an electric bike.
Robust frames are also important for strong e-bikes since they can handle more exposure to terrains such as dirt, mud, or high speeds on rocky grounds with minimum wear out of their parts. Lastly, accessories like a cargo rack, fenders, or even brighter headlights also require more cash to match the performance of top-tier 1000W Fat tire electric bikes.
In a word, the factors above are all substantial in deciding an e-bike's true value so it is important to assess these thoroughly before spending your hard-earned money on a 1000W Fat tire electric bike!
Recommendation For Best Overall 1000W Fat Tire Electric Bike Based On These Factors!
To have the best overall experience from a 1000W Fat Tire electric bike, you should look for high-quality components as well the superior power output. When it comes to watts, Young Electric Bikes offers some of the most powerful e-bike options in the industry. Here's a top recommendation from the company –
Take your next hunting adventure to the max with the Young Electric E-Explorer 1000W Hunting Long Range eBike. Powered by a robust 1000-watt brushless hub motor, this electric bike offers five riding modes so you can easily customize it to your preference.
The efficient dual battery system delivers up to 90+ miles per charge depending on the effort you exert and takes only five-six hours for a full recharge.
The convenient thumb lever throttle allows easy operation even with gloves, while an integrated 3.5 color matrix HMI display provides you with detailed readings of your bike's status and other trip data to keep close track of everything. 
The ergonomic design comes in three frame sizes and is covered by a heavy-duty rear rack designed to accommodate multiple gears and accessories. Plus, a 100 LUX headlight is on board for safe night-riding excursions with its integrated brake light function that can be easily controlled by the PAS controller switch.
Taking your speed up to 28 MPH, it gives you the peace of mind with the TEKTRO hydraulic disc brake system. Conquer unbeatable terrains effortlessly with the Young Electric E-Explorer 1000W Hunting Long Range eBike!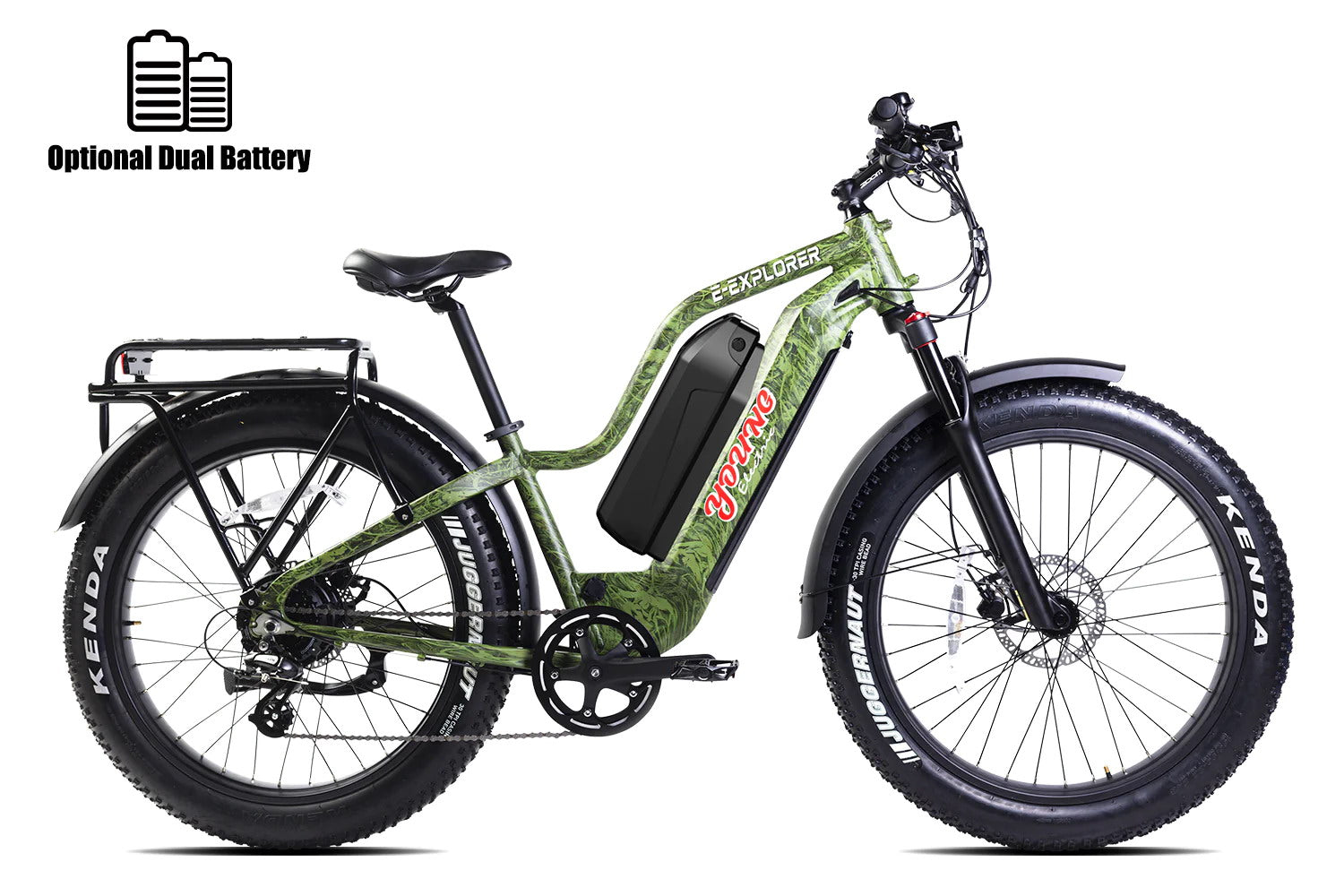 Conclusion
A 1000W Fat tire electric bike is the perfect way to get around with greater speed and a smoother ride than standard bicycles. With better power output, enhanced components, and performance, these e-bikes have become quite popular recently due to the convenience they provide.
It is vital to consider all the factors mentioned above when selecting an electric bike - from power output and battery life to other specifications like quality components, attractive aesthetics as well as accessories that can come with it – so you know what your best options are when choosing the perfect e-bike for your journey.
If you're in search of a reliable 1000W Fat Tire Electric Bike, YoungElectricBikes has one of the most sophisticated models available today – with impressive weight, upgraded components, and a dual battery system for longer ride times – the Young Electric E-Explorer 1000W Hunting Long Range eBike is an all-round performer that's tough enough to handle any terrain you throw at it.
---