How to choose An Electric Bike For Hunting
What Is An Electric Hunting Bike?
Hunting electric bikes are becoming a hot trend for hunters. These attractive and well-performing vehicles are viable to enjoy the perks of electricity while hunting.
 Typical e-bikes are different from hunting e-bikes. It is essential to consider the differences between the two. Hunting e-bikes run smoothly in silence. The noise-proof attribute of these bikes is necessary when you want to execute professional hunting successfully.
Electric mountain bikes for hunting fully consider the condition of geographical regions around the mountains. These run well on rocky paths making a good experience for bike riders and hunters.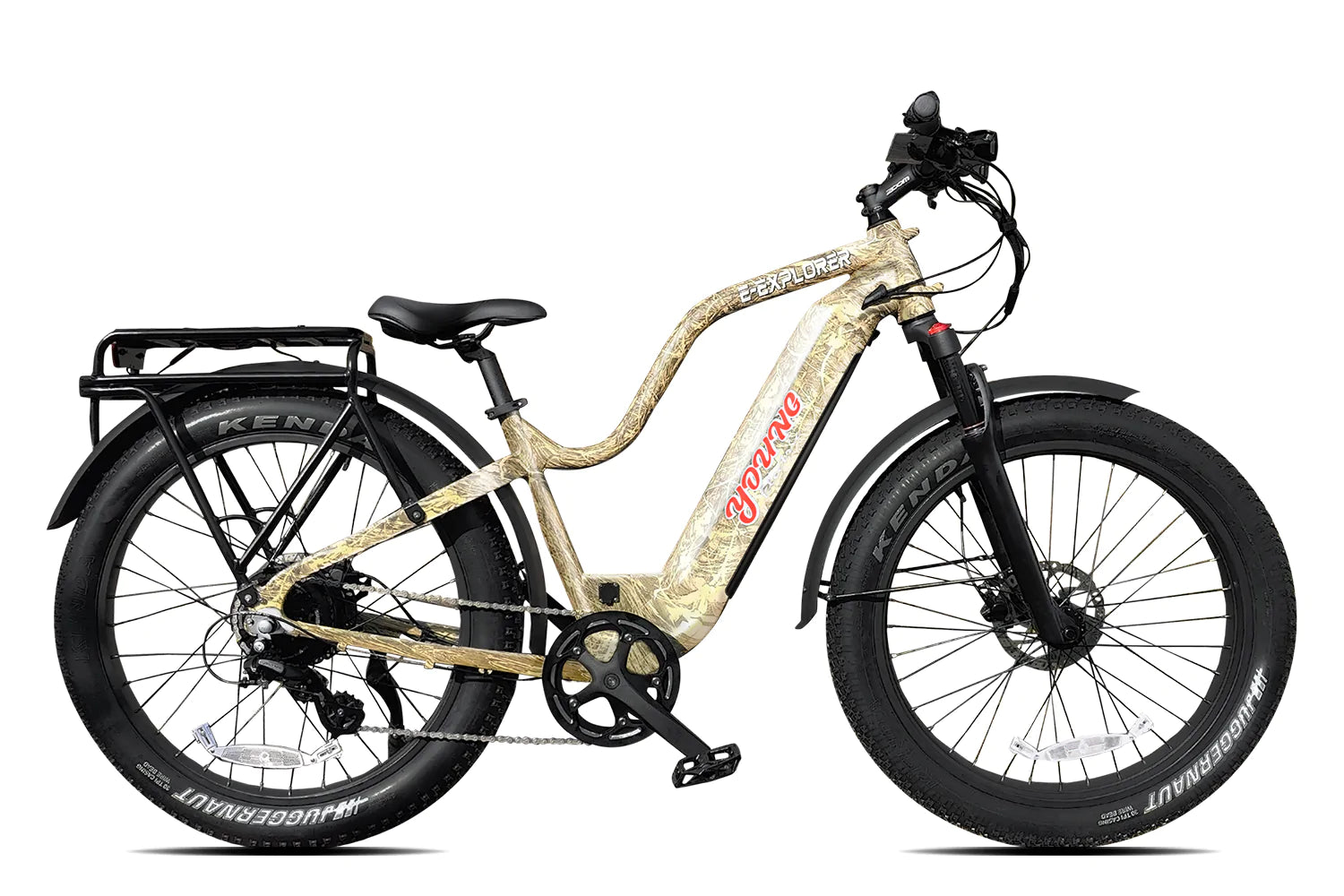 The Benefits Of Hunting Electric Bikes
 Such bikes are essential benefits for hunters, such as requisite hunting equipment and bikes. These are not heavy weights. It is feasible to maneuver them on rough hunting tracks. These are concise that only impede hunting on some counts.
 While hunting, these bikes reduce the chances of any miss-out. Because these hunting e-bikes fade your smell, your prey can get alert of your existence. Plus, these keep you off the radar.
 Features of Best Electric Safari Vehicles
There are multiple safari vehicles specially designed for hunting in the market. But it is essential to consider some attributes before choosing to buy them.
 The specs of these vehicles that are important to keep in mind include the power range. Vehicles with 400-500 watts of power are essential for hunting. Experts believe that 750-1000 watts of vehicles are sufficient for hunting in this aspect.
 It is a viable price range for hunters who carry heavy gear with them for hunting since these are powerful for assisting the hunters with extra mileage and performance.
 Select The Best Electric Bike For Hunting
Hunting is much easier when you are using hunting e-bikes. These are compatible with spending many hours with them with the least effort—a complete package for hunters carrying lots of baggage. To make the most of these vehicles, you must choose the right bike for hunting purposes.
The hunting e-bikes became famous when a group of hunters decided to use these calm bikes for hunting to get desired results. These were much quieter than others and improved their hunting to a satisfactory level.
Electric bikes are excellent vehicles as they are environment-friendly. These bikes' lesser environmental influence makes them a perfect choice for hunters.
How to choose An Electric Bike For Hunting?
A safari bike should have all the qualities of an e-bike. Following are some factors to consider for choosing an e-bike for hunting.
Over Long Distances
Hunting demands traveling for long distances. Different hunting ranges are far-fetched. For this reason, hunting e-bikes will inevitably take you over long distances with ease and minimum effort. Their batteries are robust and do not die any sooner. It means you can execute hunting and level up the game in the best way possible.
If you consider, you have to funnel down the best hunting e-bikes when you like to hunt on long distances. These e-bikes can cover the range of 60-90 miles on one charge.
High Speed
The high speed of a vehicle is essential for hunting. It brings out more precision and helps you acquire your targets faster. Another reason to choose an e-bike is the freedom of moving at a fast pace during hunting when needed.
Himiway empowers your e-bike to travel long distances at an unbelievable speed to match your prey's velocity, which does not let you miss it out.
Quiet Drive System
You cannot miss out on your targets by making any noise. Hunting e-bikes are noise canceling, and their quiet drive system is interesting to make you a successful hunter. It also helps you hunt with focus without any distractions.
Himiway electric bikes feature the same system for professional hunters. These do not disturb you or your target while hunting. The quiet drive system of these e-bikes makes them a compelling and intelligent choice for today's hunters.
All-Terrain Tires And Fat Tires
The tires of e-bikes are big and wide, and the nature of these tires is flat, which makes e-bikes more stable and self-containing. The shape and disposition of bike tires are integral to consider for hunting. Regular bikes have much smaller tires than e-bikes, making them unsuitable for hunting.
You need this kind of composure and balance while hunting. Such a shape of tires protects you from all sorts of dangers while riding or hunting with these e-bikes.
Noise
Noise can take away your prey from you. It can also complicate your day hunting. Noise is a significant factor that makes or breaks your hunting strategy.
QuietKat hunting bikes perform just as their brand's name. You all need silent and secured bikes for hunting to pull off a brilliant hunting strategy. These help you hunt quietly and not let your prey get vigilant of your presence around it.
Weight Restriction
QuietKat bikes efficiently perform extraordinarily with the heavy weight of your hunting gear so that you can focus on your target with all your skills and attention.
These electric safari bikes have a weight restriction of 300-325 pounds. The weight limit for the trailer is about 100 pounds, but it depends on the track and experience of the hunter. You can carry a load of about 200 pounds on flat hunting regions with these e-bikes.
Bike Weight
Bike weight can become a huge hurdle for you as a hunter. You must take it out with intense struggle if it gets stuck somewhere. Also, hunting gear makes riding such a bulky hunting bike more challenging.
QuietKat's line of hunting electric bikes weigh 65-70 pounds. That is the same weight range your hunting bike can work accurately with.
Durability
It would help if you had a hunting bike that would stay a little longer. It has to assist you in many hunts, one after the other. So it has to be durable, endure all the problems, and perform with brilliance. It will make challenging hunting tracks a flawless experience in your hunting journey.
Additional Features
Additional features make a solid place in a hunter's life. You cannot choose a hunting e-bike that does not allow other features. Make sure your ride allows a flexible trailer that easily carries all of your hunting equipment and has enough space.
Electric Bike for Hunting Recommend:
E-Explorer E-bike has good performance:
Rear Hub Motor – 1000W
Geared Hub motor puts the power directly to the ground.
Provides the power you need for steep trails and heavy loads.
Decreases wear on the chain, cogs, and derailleur.
Optional Dual Battery - 48V 15Ah
Designed with a primary battery in the frame and a second battery integrated in the center of the frame.
Batteries in the frame keep the center of gravity lower for maximum bike stability and better weight distribution with loads on the rear rack.
Provides superior extended range for long trips or steep trails.
Upgradable single battery model of bike is also available.
Color Display
The color display makes it easy to see bike status and trip data.
Data displayed: Speed, Distance Travelled,
Average Speed, Battery Capacity, Motor Power Output, and more.
Custom Frame Design
Offered in three (3) frame sizes to provide the best fit and rider comfort.
A super strong structure is designed for cargo capacity in excess of 330 lbs.
Low top bar design allows easier boarding while providing the strength required for heavier riders.
Lighting the way down those dark mountain trails
High Power Headlight to light the darkest of trails.
Integrated taillight with integrated brake light function.
Controlled by a dedicated headlight switch on the PAS controller.
Heavy Duty Rear Rack
Provides multiple fastening options for all your gear.
Designed to accept accessories from other brands already in the market.
---