The Top E-Bike Accessories to Enhance Your Riding Experience
If you are ready to make your e-bike riding adventurous and trouble-free, you need to add some good accessories along with the e-bike.
No matter whether you are an occasional rider or into learning, adding these gadgets will elevate your experience of electric bikes.
Even if you are an avid rider, these accessories are mandatory. The best part of these tools is you can personalize them with your requirements and ideas.
Now get ready for the top e-bike accessories that can upgrade your bike riding experience to the next level. So, Let's dive in!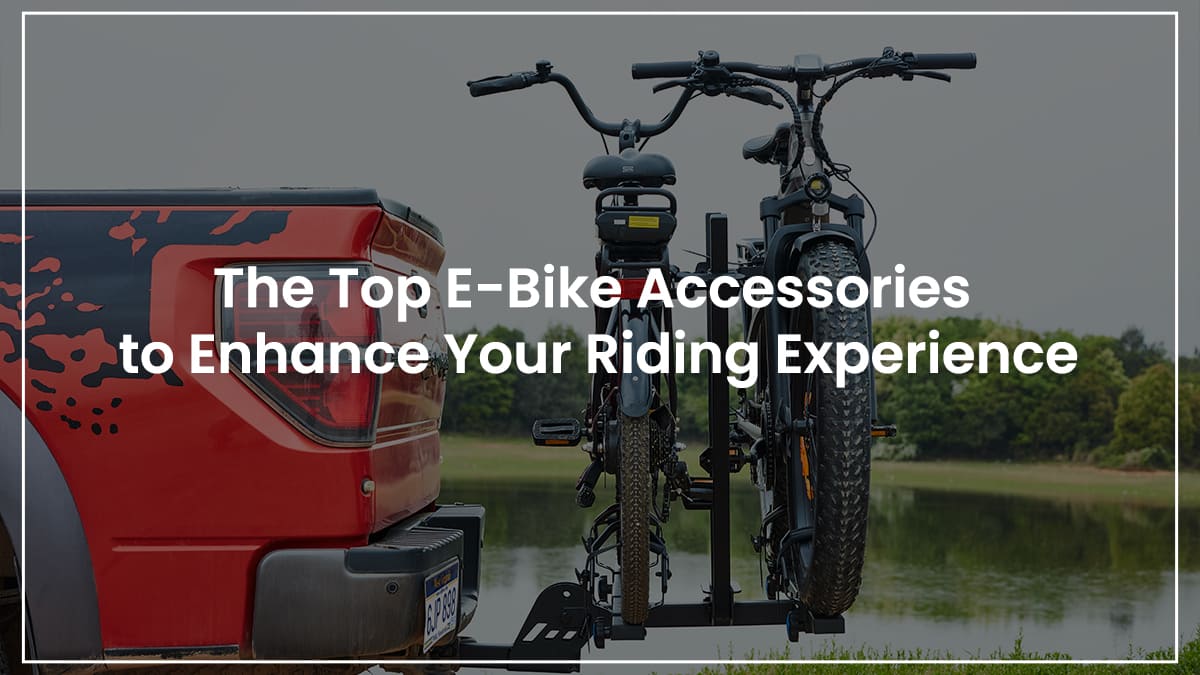 Importance of accessories in enhancing the riding experience
Installing modern accessories can boost your riding journey and make them enjoyable. Now you must be thinking why do you need accessories to intensify your rides, right?
Well, don't worry! Let's learn the necessity of using accessories for your e-bike.
●
Safety
Who doesn't want a safe ride on an e-bike? We all do, right? To ensure the highest safety, it's highly recommended to use safety accessories like helmets, lights, reflectors, and mirrors.
●
Comfort
The second thing you will need to ensure while using an e-bike is comfort. In this case, accessories like additional soft cushioning, suspension seats, ergonomic grips, and gel saddle covers are most important for improving the riding experience.
●
Storage and carrying capacity
E-bikes are mostly used to commute, grocery shopping, and daily rides. If you install panniers, baskets, and racks, it will help you to carry your backpacks, groceries, and work essentials easily.
●
Maintenance and protection
One of the toughest tasks for an e-bike rider is maintenance. It's not possible to clean the bike every day and keep it scratch free. Including some basic accessories like fenders, mudguards, reliable locks, and protective covers and cases will make your riding secure and ensure durability.
As of now, you've understood why accessories are highly important for riding electric bikes. But now the question is what accessories to buy for an e-bike? The accessories are divided into four categories.
Are you ready to find them? Great, let's dive into the accessories you must add to your e-bike.
1. Essential Safety Accessories
No matter whether you're a regular or occasional e-bike rider, you must need some accessories to make your rides safe and secure. To avoid major accidents and injuries, you should purchase these accessories immediately before your first ride.
A.
Helmet
According to the CPSC survey,around 19,000 emergency room visits and 71 deaths caused by battery powered vehicles in between 2017 to 2020.Compared to other vehicles,e-bike accident rates are higher. In most cases,it occurs due to not wearing helmets most of the time.
Wearing a helmet will save your head from brain, head, and face injuries. If you ride without a helmet, it can take you near death. In that case, you will need modern and robust helmets.
If you want a stylish and up-to-date helmet, we will suggest buying Young Electric Ultralight Waterproof Bike Helmet With LEDs because it comes up with searchlights and warning lights, and high-density shells.
For regular riders, Young Electric Cycling Helmet and Adult Cycling Helmet are the perfect choice because they are affordable and long-lasting.  
B.
Lights and reflectors
Reflectors are effective visual aids for electric bikes. You need to add this on the rear, front, pedal, and wheel of a bike as it helps to keep your e-bike visible, especially at night.
Moreover, lighting is mandatory for e-bikes because it's comparably tough to ride on these at night. If you install headlights and tail lights, it will be easier for you to find the roads, and also helps other people to notice your bike properly.
By doing these, you can avoid several road accidents. For premium quality lights, you can look into Young Electric LED Tail Light and USB Rechargeable Headlight because they are durable and easy to install.
C.
Mirrors
Attaching a mirror to the end of your handlebars can give a clear rear view during group bike rides. It will also show you the perfect picture of the traffic on busy roads.
D.
Bell or horn
If you add bells and horns to your electric bike, it will help you to alert other riders and pedestrians on the road.
Experts recommend using the horns as a signal when you are going on rides. You can install the horns near the handlebar where you can use it with your thumb effortlessly.
2. Comfort and Convenience Accessories
After ensuring your safety, you must think about your comfort. Using them will make your bike rides effortless and convenient. You will be amazed at their practicability once you include them on your bike.
A.
Bike locks
A case study states that almost 3.8% of e-bikes are stolen every year . Having a good quality bike lock can keep your bike safe from theft. You can lock up the bike wheels with any firm object to keep your wheels secure while you aren't on rides.
To ensure better security, you can invest in ZiiLock M Folding Bike Lock or  ZiiLock X Smart Folding Bike Lock for their modern locking system and longevity.
Note: No locks can keep your bike safe from theft if they get enough time and tools to steal it. So, it's better to be cautious before parking your bike anywhere.
B.
Panniers or saddlebags
If you're using your bike for carrying heavy loads, you must install panniers or saddlebags near the rear wheels. You can get them solo or pair them according to your need and budget.
Not all bike models have the option to install both side saddle bags. Some of the bikes include this feature for the rider's convenience. To get a good quality bag at a budget-friendly cost, you can check out Young Electric Saddle Bag, which comes up with an easy installation package as well.
C.
Rear rack, fenders, and baskets
For making your daily rides trouble-free, you should add a rear rack, fenders, and baskets. Rear racks are essential to hold luggage and additional bags. And if you want a lightweight rear rack for daily commutes, then E-Explorer Rear-Mounted Basket can be a suitable option. As it will help you to carry groceries and other belongings.
What's more, fender is known as the mudguard. It protects the wheel on the muddy ground and rolls it safely through water without too much dirts.
D.
Hitch bike racks
Isn't it difficult to transport your e-bike if you need to move? We know it's too tough for some riders. But one tool can make it easier and faster and that is hitch bike racks.
You can easily install the rear side of your bike to the trailer hitch and lift them carefully. Lastly, attach the hitch to your car or pickup. And you are ready to go!
To choose between different types of hitch bike racks, you can look into the wide collection of Young Electric Hitch Bike Racks, as these are the best-selling hitch racks for e-bikes.
3. Charging and Battery Accessories
Now your safety and comfort are assured, what's next then? Charging and battery accessories. E-bikes are battery-powered and they need to be charged properly. So keeping them operating well is mandatory to use electric bikes.
A.
Extra battery pack
Even if you already have a battery in your bike, keeping an additional battery pack in stock and taking it during your group rides or if you are traveling far away from your home would be a good idea. As an extra battery pack can save you and your mates a lot of effort and time and make your tours hassle-free. As for durable batteries, we will recommend buying a Young Electric 48V/20Ah 960Wh LG Li-ion Battery for its long-time service and portability.
B.
Portable charger
Portable charger is regarded as the life savior for school and office-going riders. When you're on bike tours or commuting, you need to keep a portable charger in your backpack, so you can charge the batteries anywhere you need.
And if you travel frequently, it's necessary to keep your portable chargers because you will need to charge the batteries during long rides.
If you are hovering for lightweight and high-power chargers, 48V 15Ah Li-ion Battery Charger is an amazing option for you, which is also compatible with all e-bike batteries.  
4. Maintenance and Repair Accessories
If you want to ensure the longevity of your bikes, you should prepare some maintenance and repair accessories because it's impratical to take your bike to the repair center every time.
A.
Multitool kit
Keeping a multitool kit will help you to repair your e-bike quickly at home without professionals. It includes cleaning accessories, knives, screwdrivers, pins, and park and repair tools.
B.
Tire repair kit
Repairing a tire isn't an easy task. But you can do it using some easy tools like a tire spoon tool set, a tubeless tire repair kit, or vulcanizing patch kit.
If you store these tools at your home, you can replace and repair the tires without taking your bike to the servicing center, which will save your energy and bucks as well.
C.
Chain lubricant
To keep the bike chains clean and ensure its durability, you need to lubricate the chains regularly, as dirty chains are responsible for the short lifetime of electric bikes. In addition, to guarantee your bike's better health, clean the chains with high-quality lubricant.
D.
Portable air pump
Suppose you are going on a bike tour and suddenly notice the tires are inflated. But there is no bike service center near your location. What will you do?
Well, in that case, if you have a portable air pump, you can easily pump up your tires and continue your ride quickly. Yet, a high-pressure air pump works best for e-bikes. And for this reason, having a 160 PSI High-Pressure Portable Pump is a win for all e-bike riders.
Conclusion
After all these, you've got to know all the must-have e-bike accessories to improve your riding experience. Investing in the right bike accessories can definitely make your bike commutes more flexible and keep it hassle-free.
You can consider all accessories we've mentioned here. And there are some good quality brands that have wide collections of bike tools with long guarantee periods.
You can also customize your electric bike with the accessories you need and ensure your safety while riding e-bikes. Click here to find more smart and premium e-bike accessories.
---