Why Are E-bikes Perfect for Camping
E-bikes are the most convenient transportation in the U.S. right now. It's also popular in China and many other countries. From daily commutes to camping, they are using e-bikes due to their easy usability and battery capacity.
But have you ever experienced an e-bike for camping? If not, then you should try it at least once. We can assure you'll fall in love with the journey and keep going on e-bike camping tours. Unlike other heavy vehicles which are energy-intensive, e-bikes are both eco-friendly and energy-saving.  
We know it isn't enough to make you understand e-bikes are perfect for camping. That's why we are going to let you know everything about electric bike camping. Now, let's get started!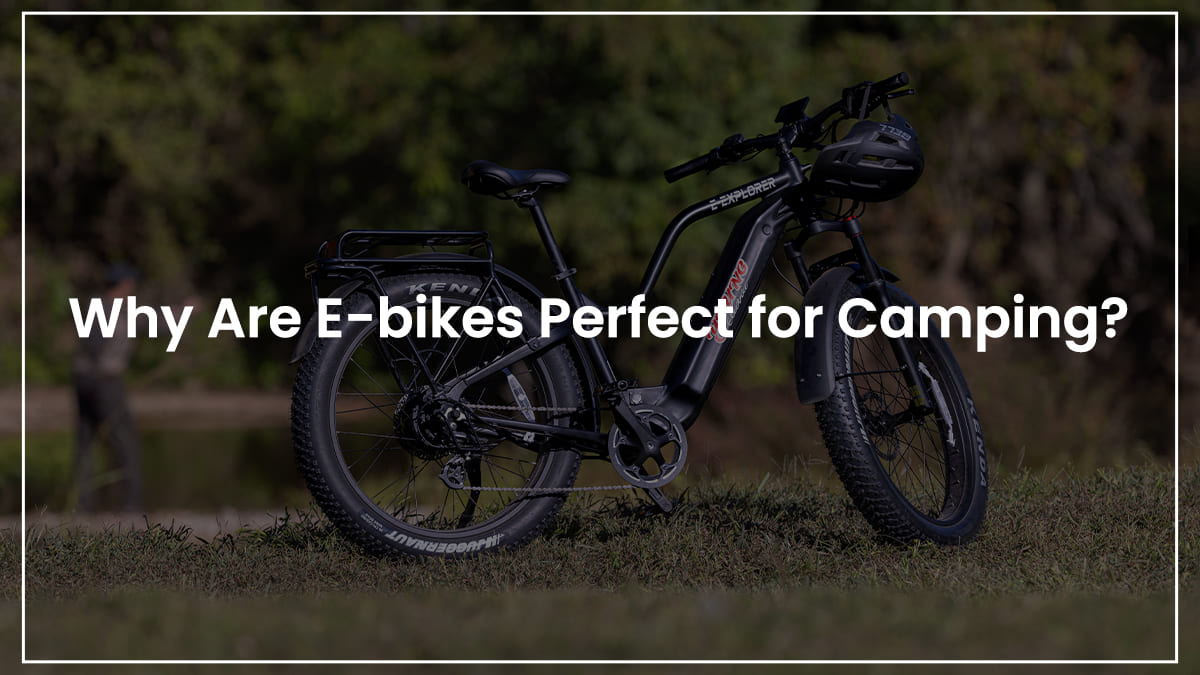 What is Electric Bike Camping?
Using the e-bike for camping tours is known as electric bike camping. During these camping sessions, riders use their e-bike for traveling and roaming around the surroundings.
Electric bikes make camping more enjoyable and let you explore the local areas, trails, and natural landscapes. Professional riders often go on e-bike camping because it's flexible and convenient.  
It also ensures good fitness, comfortable and sustainable transportation. You can enjoy both the pleasure of camping and the exercise brought by cycling at the same time. Thus, it's a great opportunity to socialize with like-minded people.
But that's not all about e-bike camping. There are more things you should understand before taking your e-bike for camping. In the next section, you'll learn the benefits of e-bike camping.
What are the Benefits of an eBike while camping?
Apart from easy traveling and adventurous experiences, we've got more benefits that align e-bikes with camping perfectly. Let's explore the amazing benefits of including your e-bike on camping tours.
●
Freedom, Flexibility, and Fulfillment
Some areas of camping sites are inaccessible by heavy vehicles like cars or even traditional motorbikes. Also, it's quite risky to use regular cycles on the hilly tracks.  The only vehicle that can help you to explore the local area freely is an e-bike.
As there are bumpy and narrow roads near hill areas, it's also necessary to ensure comfort while discovering remote areas. That's why e-bikes guarantee the highest flexibility to the riders on all terrains.
Furthermore, an e-bike can create a divine connection with nature with the slow pace of riding. It helps you to captivate your soul and mind with a deep nature connection. Also, these experiences can develop your life skills, and that makes e-bike camping more meaningful.  
●
Carry more Equipment and Gear
Camping requires some essential gear and equipment to make it more interesting and trouble-free. And it's not easy to carry these gears and equipment here and there every time. With an e-bike comes with racks, you can carry equipment like hammocks, tents, tools, first-aid emergency kits, water, multi-tools, headlamp, backpack, cooking stoves, and utensils. If your e-bike doesn't have a large cargo basket itself, you just need to install it separately when you are out camping.
●
Sustainable & Eco-Friendly- Lower Your Carbon Footprint
E-bikes are an eco-friendly and sustainable transport system because they don't produce gas fumes and they run without using oil. It simply requires electricity to charge the batteries, and you can also assist your bike only with pedals.
Riding the e-bike emits 22 grams of CO2e per kilometer, whereas cars emit 271 grams of CO2e per kilometer. So you don't have to worry about the carbon footprint anymore. What's more, there's less chance of noise or air pollution if you use your e-bike on camping sites. Therefore you can build up your relationship with the world more effectively and friendly.  
●
More Accessible to All Ages and Groups
From grandparents to children, everyone can get the experience of camping with an e-bike and it'll help you to make your family bond stronger and grab some unforgettable memories. Also, it's a relief for individuals who can't walk for long distances.
●
Dealing with traffic congestion in camping areas
One of the unavoidable obstacles to camping is traffic congestion. Heavy vehicles can't cross over the traffic jam. But e-bikes are compact enough so you can easily go through the narrow paths and reach your camping destination quicker.
Besides the traffic jams, it's quite hard to find suitable parking zones for conventional vehicles. In that case, e-bikes are best because they can be parked anywhere with bike locks. So, you can effortlessly navigate the e-bikes while camping. You can check out Young Electric bike locks because these are the best in the market nowadays.
After noting down the benefits, it's necessary to make an effective route plan for e-bike camping. Don't worry if you are not an expert in finding out the most perfect e-bike route plan! We'll help you out with the things you should keep in mind while planning the e-bike routes for camping.  
What Makes a Good E-Bike Route Plan?
If you want to create a successful e-bike route plan, you must understand some basics that can ensure a smooth camping experience. We suggest checking these things before setting up the route plan for e-bike camping.
●
Research the e-bike-friendly areas and trails in advance
Not all camping areas are suitable for e-bikes, some of them are unsafe for some vehicles. You need to research the trail suitability and road conditions to know if it's convenient for an e-bike or not, for taking the bike into hazardous areas won't be a good idea.
For in-depth research and more information, you can go to local bike shops, search on Google, explore camping websites, check online trail maps, ask the e-bike camping communities, or go through social media platforms.  
●
Understand Your Skill Level and Physical Fitness
Assessing your riding capabilities is compulsory if you're going on e-bike camping. As there are hills and full of uneven roads, it's hard to balance and control the bike. In that case, you need to be skilled in riding e-bikes.
And also, you have to be fit enough and familiar with the navigation system. It also requires years of riding experience and practice to handle the e-bike on hill roads. Additionally, you have to pedal more along with the motor assistance due to the weak road conditions, therefore, maintaining physical fitness is also crucial before planning an e-bike camping.
●
Check out the Weather
Not only for e-bike camping, but weather condition is also significant for any outdoor activities. You have to determine the temperature, rain or snow predictions, wind status, the heat level of the sun, warnings, and alerts as it may cause different risks and can be unsafe to ride e-bikes or camp in these severe weather conditions.
●
Consider the Electric Bike Range
While planning the routes, you need to think about the distance your bike can cover with a single charge. It'll assist you in understanding how often you need to charge the batteries or keep extra batteries. Knowing the bike range can also prevent draining power, expand the battery lifespan, and optimize your journey.
●
Consider Charging and Public Facilities
If you want to maintain battery health, you should research the charging stations on the way to your camping spot. And you need to calculate the charging time for planning the breaks.
You must take a power bank or solar charger to recharg the batteries on the camping site. Alongside, it's essential to look for the restrooms, cafes, restaurants, shelters, and water sources of the camping route, so that you can always get supplies easily.
●
Check Local Regulations
Before visiting a camping area, familiarize the local regulations. Generally, these regulations are depending on the locations, different e-bike classes, trail rules, and physical environment. To gather proper knowledge about the local rules, you need to visit government sites, trail associates, camping websites, and local authorities.
Now it's time to select a suitable camping e-bike for a smooth and stable journey. So do you know how to choose a camping e-bike? If not, note down the must-have features for camping electric bikes.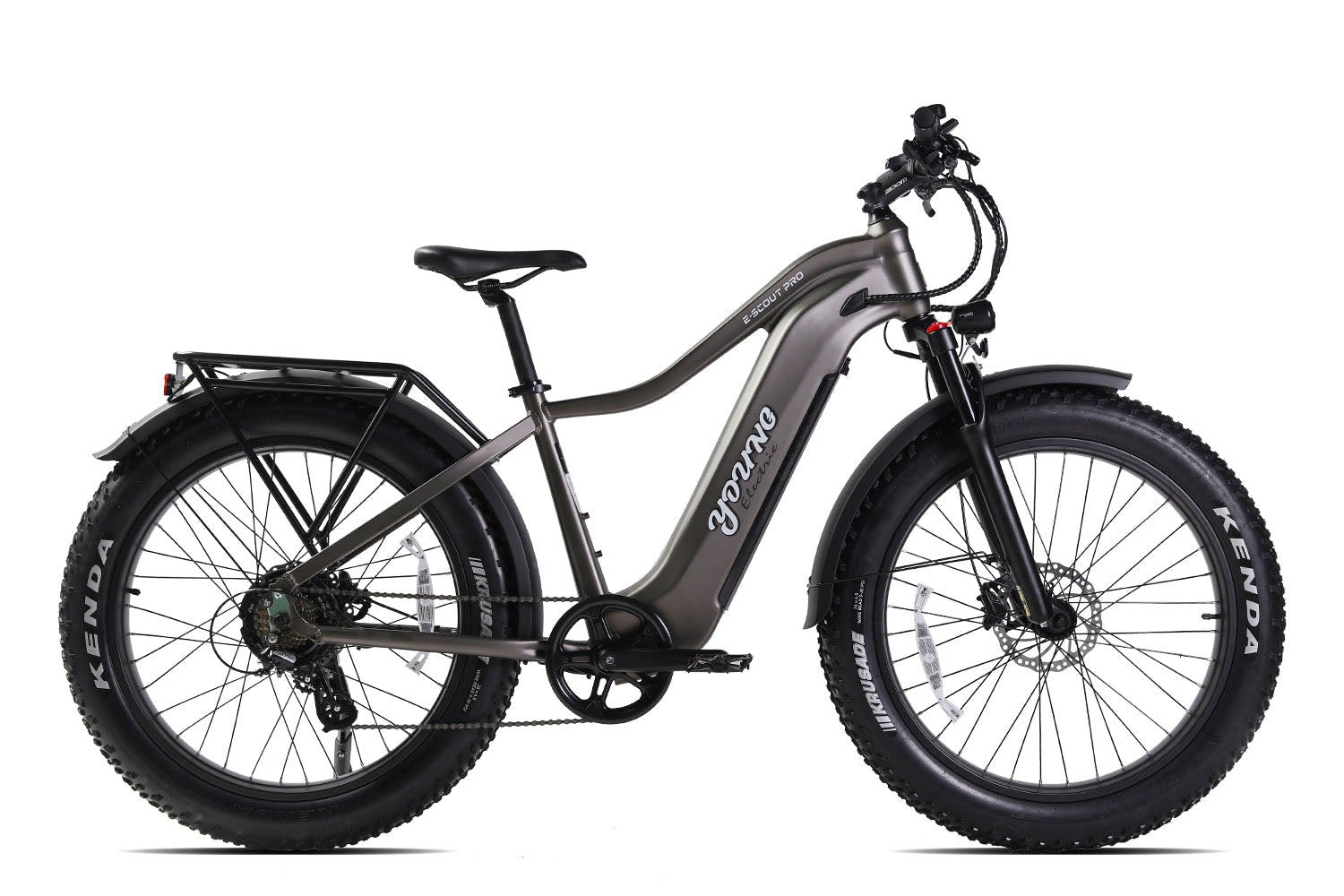 What are the important factors to consider when choosing a camping e-bike?
Regular e-bikes offer some primary features and specifications that won't be enough for camping. And if you plan for camping frequently, you should get a specialized e-bike for extra safety and convenience. Here are the most essential features you must consider for camping e-bikes.
●
Motor Power and Assist Levels
The maximum speed per mile a camping e-bike could reach also depends on the pedals and throttles, which makes e-bike the best choice for both leisure riding and exercising.
The performance of an e-bike depends on the motor power. As e-bikes are motor-powered, they should have high-quality motors that can control the whole riding system and assist you in pedaling effectively. What's more, brushless hub motors hold up high power that allows you to ride on all terrains.
In that way, Young Electric E-Scout Pro 750W is the best pick for a camping e-bike.
Note: E-Scout Pro uses a brushless hub motor and a maximum speed level of 28 mph by the pedal and 20 mph by the throttle.  
●
Extended Range and Battery Life
Bike range is important, especially for the camping ones because it's not effortless to charge the batteries now and then on the way. So the camping e-bike must cover at least 80 miles with a one-time charge.
Another important factor is battery life. Maintaining the battery's health with good charging habits and proper care is enough to expand its life. Therefore, picking an e-bike with a high-power battery is essential. The more power it can hold, the more miles it can run.
Note: E-Scout Pro uses a 960Wh LG battery that covers 80 miles per charge cycle.  
●
Durability and Off-Road Capability
While buying a camping e-bike, you must know about its durability first because you shouldn't invest in bikes that won't last longer. So, ensure your camping bike has robust built-in quality, and premium frame materials.
Apart from these, you need to check the tire size. Fat tires are recommended here as they can tackle almost all terrains, especially for high off-road capabilities.
Note: E-Scout Pro uses Kenda 26*4.0 fat tires.
●
Portability and Compactness
Camping e-bikes should be flexible and easy to carry. In that case, pick the compact-size portable e-bike for camping. Heavy and large e-bikes are difficult to move. As you need to move it often during camping, lightweight options are suitable.
Note: E-Flow weighs 85.1 lbs with a heavy load capacity and can be foldable so that you can carry it anywhere you travel.
●
Charging Options and Compatibility
E-bikes won't survive longer with only a one-time charge. And you might rarely find charging docks to recharge the batteries near campsites.  
To handle these issues, you'll need power banks and solar chargers. But not all batteries are capable of charging with these power sources. In that case, you have to find e-bike batteries that can be charged with power banks and solar chargers.
Conclusion
As e-bikes have a unique combination of comfort and sustainability, they can be the utmost choice for camping. The capabilities of covering far distances, helping the riders to control the pedal with less effort, and assisting to go through the challenging trails without hassle.
Not only that, e-bikes for camping open the door for people who want to explore more. Also, it's a great opportunity for regular campers and professional e-bike riders to discover the natural beauty and enjoy camping to the fullest.
---