Best 750w Folding Electric Bike 2023
Have you ever lost your e-bike due to unsafe parking spaces? Most of the lost e-bike cases indicate that it has been stolen. Around one million e-bikes have been stolen in the US according to the FBI report of 2017. Now it has increased as people are getting crazier over the e-bikes.
No matter how strong your bike lock is, your bike may be stolen when you park it on the road. But what if you can carry an electric bike wherever you go? Now you must be confusing how it can be possible. It's not a miracle, you can carry folding bikes easily in all places from hills to nearby restaurants, offices, or parks.
After testing several e-bikes, we've got a 750W folding electric bike which is more comfortable and long-lasting than others. So what makes it the best among all the folding bikes? Let's find out the reasons to choose a 750W foldable e-bike.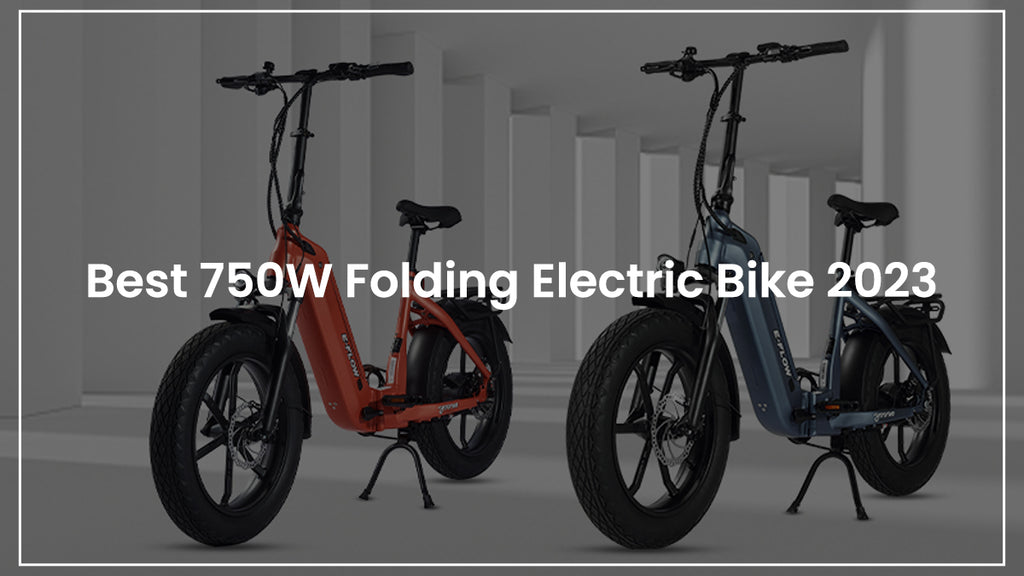 What is a 750w Folding Electric bike?
A 750W folding electric bike means it comes up with 750-watt motor power. Along with these, it helps to provide more assistance than other motors. These bikes are an excellent choice for both daily commutes and mountain biking. And according to the US Federal Register, 750w bikes are classified as class-3 e-bikes.
Another reason that the 750W motor is widely used in folding e-bike is because it offers more comfortable acceleration for lighter rides. And this motor power can handle the roughest roads in the mountains ensuring better comfort.
Professional riders would recommend taking the Young Electric E-Flow 750W Folding E-bike because it has been made for all terrains from city roads to mountain hills. Now you know what 750W means for an e-bike, the next thing you should note down is the speed limit of 750W bikes.
How fast does a 750w electric bike go?
Knowing the speed capacity is a must before picking an electric bike. Also, it's essential to remember the speed limit laws to be safe during rush drives. To understand the speed of a 750w e-bike, you need to learn about the legal regulations and some factors that may affect the speed.
●
Speed limit regulations
When it comes to speed laws, a 750W electric bike can go 28 to 32 miles per hour. The US Legislative recommends riding a 750w e-bike on a minimum range of 28 miles per hour. They've also suggested not exceeding the speed limits because it can cause several unkind circumstances.
●
Variable factors
Speed, not only depends on the motor power, can also be affected by other factors. For example, the speed can vary with different riding styles, rider's skill, battery capacity, bike weight, pedaling effort, and terrain types.
The 750W e-bikes are often compared with 500W e-bikes because they have something similar. But there are some major differences between both motors. Now we are going to explain them in detail.
What is the difference between 750W and 500W e-bikes?
These two e-bike motors belong to different bike classes. In that way, they have different power, performance, or regulations, and let's discuss them in details:
●
Motor power
An electric bike with a 750-watt motor can run faster than a 500-watt e-bike. Moreover, the 750-watt e-bike has been designed for regular commutes to mountain bike tours. It can handle rough to normal, all terrain types. Also, it can hold more loads than the 500-watt motor. 
On the other hand, 500W-motor e-bikes are best for daily commutes, but they can hardly support you on bike tours. Thus, these e-bikes aren't as strong as the 750W bikes and it doesn't cover far distances easily.
●
Acceleration capacity
Another noticeable difference is the acceleration capacity. Whether you're on rough riding or light evening rides, a 750W e-bike will provide you with more consistent and faster acceleration than the 500W e-bikes. Yet, a 500-W e-bike can handle lighter rides comfortably, but it's difficult to tackle rough rides with this motor power.
●
Regulatory system
E-bike regulations aren't the same for all motor power. It varies with different states and classes. The 500W e-bike belongs to class 2 and on the other side, 750-W bikes are from class 3. So the rules and speed limits are different.
However, even the same bike classes can also have some differences like 750W and 1000W. You must be thinking what can be the differences between similar bike categories? Right?
Well,  fret not! In the next section, you'll find the differences between 750W and 1000W motors.
What is the difference between Bafang 750w and 1000W e-bikes?
While comparing these motors, we've picked the Bafang hub motors because it's one of the best motor brands for e-bikes. Without delaying a second, let's dive into the dissimilarities of Bafang 750W and 1000W e-bikes.
●
Torque power
It's clear that these two have different torque power, and the 1000W e-bikes have higher torque power than the 750W.
Torque power is definitely important, but high power isn't always best for the roads sometimes. It's better to have moderate torque power to handle the bike better on different terrains. In that case, 750W is better than 1000W.
Torque power is definitely important, but high power isn't always best for the roads . Yet, it comes up with high torque power because it's heavier and larger than 750W.
It's better to have moderate torque power to handle the bike better on different terrains. The 1000W drains battery power more than 750W. In that way, we find 750W more efficient than 1000W.
●
Speed limit
Similar to torque, a 1000W e-bike can go faster than a 750W e-bike. But is it safe for all riders? That's the issue. The fastest speed won't be the perfect choice for everyone.
Because it's quite hard to handle extreme speed and requires strong riding skills and long years of experience. So, 750W e-bikes are better for more riders. And 1000W e-bikes might be suitable for only professionals.
●
Biking range and legal consideration
As the speed limit differs, the biking range will be different as well. Usually, a 1000W e-bike covers further distances than a 750W one. But in most states in the US, you must follow the legal restricts about e-bike's riding range and speed. So even if it can go far fast, you can't take it according to the laws.
What is the best battery for the Bafang 750W motor?
We've tested many batteries on the Bafang 750W motor to find out the most suitable one. While choosing the perfect battery for the specific motor power, here are the factors you must keep in mind for picking the battery for a 750W motor-
●
Voltage
Battery voltage needs to be compatible with the motor power. Generally, the battery stores the electrical energy and the motor converts it into chemical energy whenever it's needed. So,  it's mandatory to match the voltage power. For a 750W motor, you should take a battery with 48-voltage power.
●
Power capacity
Understanding the e-bike's battery power is necessary to determine how long your bike can run with a single time charge. The higher the power capacity is, the longer it will support you during the rides. That's why, it's recommended to choose the battery that comes up with 20Ah and 960Wh capacity for a 750W motor.
●
Frame and mounting point  
One of the most concerning things is battery installation.  The battery should fit into the bike frame or mounting point easily. You must look into the frames and choose the compact-size battery for better and firm installation.
●
Battery type
Most 750W motors are compatible with lithium-ion batteries. Other batteries don't support better than these batteries and aren't durable as well. So it's wise to pick lithium-ion batteries with 48 voltage and 960Wh capacity. 
In every way, we've found the Young Electric 48V/20Ah 960Wh LG Li-ion Battery best for the 750W motor power. As the battery should have 48V power, it's compulsory to know the life cycle of it. Right? So let's explore the battery life in the next section.
How long does a 48v eBike battery last?
The lifespan of batteries depends on various factors such as quality, performance, usage, maintenance, charging habits, etc. Usually, a 48V e-bike battery can last more than 2 to 7 years.
It can also vary with the brands. Compared to other brands, Young Electric is renowned for providing the most durable batteries with their folding electric e-bikes. According to the users, it can last around 5 to 6 years with proper maintenance.
Note: Young Electric E-flow uses a 48V battery with a Bafang Sutto 750W hub motor.
Along with that, it's convenient for folding e-bikes because it fits into these bike frames without hassle. Take your e-bike for servicing whenever needed.
Besides,maintain consistent charging habits and use good quality chargers to keep the battery healthy.
Moreover, take spare batteries on long bike toursso that you can change the batteries if required during the rides. It could reduces the load on one battery and expands the lifespan. 
Conclusion
On a final note, our guide to a 750w folding electric bike will help you understand the importance of motor power and battery compatibility. Foldable e-bikes usually need to be maintained properly and if it's with a 750W motor and a Bafang Battery, you should be more careful with the usage.
Here we recommend Young Electric 750W E-Flow because it comes with a premium rear hub motor with a 48V and 20Ah battery and has positive reviews from most users. Taking it will be a win for all riders, no matter for the mountain bikers or normal riders.
For more bikes and accessories, you can visit here.
---