The Super Funny Foldable Ebike with Suspension
If you're going on an exciting bike trip soon, carrying a foldable e-bike can support you better than traditional bikes because it's portable and lightweight. These bikes are life savers for all types of riders.
For a bike tour, the most necessary thing is to ensure safety during the whole journey. According to a US study, around 40% of e-bike accidents occur due to riders falling. And some of them happened because riders using bikes without a suspension system.
Choosing a folding bike with suspension may help prevent you from falling and save your life. We know it's challenging for beginners to totally understand the basics of foldable bikes with suspensions. That's why we are here with the complete idea of folding e-bikes with all types of suspension. Without further ado, let's get started.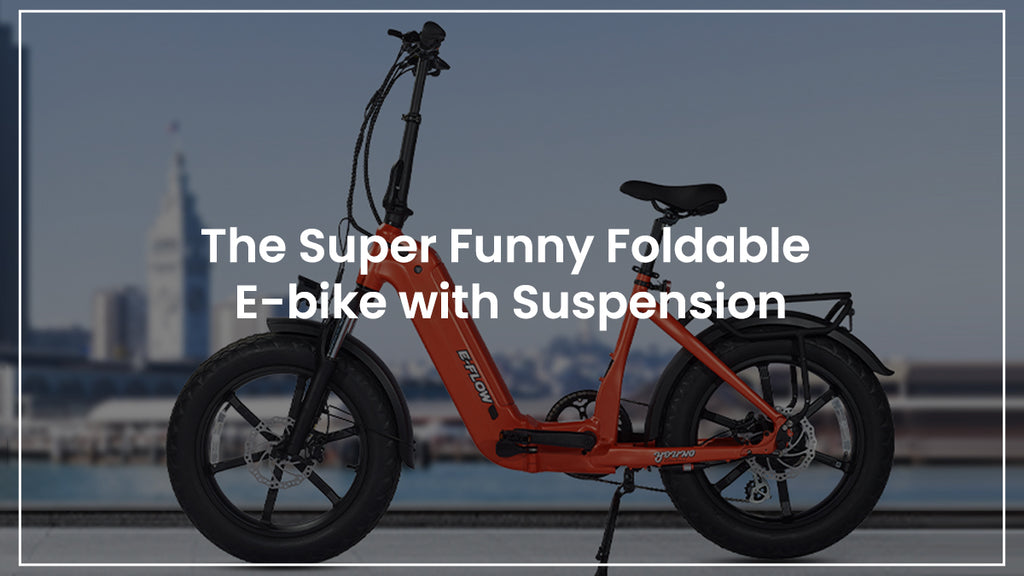 Are e-bikes with suspension worth it?
Yes. E-bikes with a suspension system are worthy for all riders, especially mountain bikers. These bikes have great braking capacity, long biking range, and flawless experience. Now you must be thinking what's so unique in e-bikes with suspension, right? Here you'll learn why you should have one.
●
Improved comfort
First things first, it comes up with extreme comfort. It helps you to operate the handlebar and pedal smoothly while riding. When you're going on mountains or rocky roads with bikes, it's quite common to face some unavoidable difficulties.
But fortunately, these bikes reduce the force through the suspension system. So you don't need to worry about the comfort anymore. Also, it decreases the possibility of fatigue and keeps you risk-free.
●
Enhanced traction
Along with extraordinary comfort, these bikes offer high traction capacity on challenging roads. Moreover, it shifts your body weight and movements from frames to tires with the shock suspension and ensures more contact on the ground of bumpy trails.
●
Long biking range
For mountain bike trips, the most important thing is to ensure biking range. The bikes with suspension provide the longest biking range and they can cover more mileage. Once you charge the battery fully, it'll run longer than regular bikes. So having a e-bike with suspension will make your bike tours more convenient.  
●
Best for different riding styles  
These bikes are perfect for all biking styles from cross-country to downhill, bike park, single-track, trail riding, and hard trails. It's one of the suitable options for those who go on hill bike tours frequently and also experiment with various biking styles.
Do folding bikes have suspension?
Yes. Foldable bikes have a front or full suspension system. Therefore, tey work better on different trails and road types.
If you're going on regular trails, then the bikes with front suspension will be enough because they can handle the slightly uneven road better, which is also more common in foldable bikes for mountains.
While looking for a foldable e-bike with front suspension, we've got the Young Electric E-Flow Folding eBike that provides a 60mm travel front suspension fork to ensure the highest comfort to the riders.
On the other hand, full-suspension foldable bikes are made for more rugged rough roads. Thus it's not that common in foldable bikes, as these aren't strong enough to carry the full suspension capacity.
Do electric bikes come with suspension?
Not all of them. Most electric bikes have front and full suspension, but there are some electric bikes that come with no suspension system. Full suspension bikes are for bumpy and rough hilly trails where you need to control the braking systems and keep the tires connected to the ground as much as possible.
Front-suspension electric bikes are perfect for shock-absorbing and high-vibration resistance power. Most professional riders prefer front-suspension e-bikes because full-suspension ones are quite expensive. But more importantly, these bikes are comfortable and easy to ride.
However, the bikes with no suspension are for regular commutes. You can't take them on mountain bike tours because they are not able to let you control the brakes properly and can't resist the shock and vibration of the rough uneven roads.
Is a foldable e-bike good?
Yes. From daily commutes to mountain tours, a foldable e-bike can back you up in every circumstance. Nowadays, most riders fall for the foldable electric bike due to its portability and comfortable riding capacity. But there are more of it, now let's explore the reasons why foldable e-bikes are good.  
●
Suitable for multiple commuting modes
If your destination requires several commuting modes like buses, trains, or others, it's not easy to carry conventional electric bikes with you. But you still need to take the bike during the commute.
In this situation, foldable bikes can help you out as you can fold and unfold them anytime you want. Also, you can carry these bikes on buses, trains, and all transportation modes.
●
Portability
Foldable e-bikes are lightweight and easy to carry. You can easily fold them according to the design and pack them with you anywhere you want. And unfold them whenever you need. Whether you're going on hill trips or using it for daily commutes, its portability will make your biking easier than you can even imagine.
●
Secure parking capacity
Another necessary reason to take a foldable bike is that you don't need to park it in public places where your bike might be stolen, and you can't even catch the bike thieves.
Isn't it better if you carry them with you wherever you go? You can carry this e-bike in your office, workplace, home, or even restaurant without thinking twice about safe parking places.
●
Easy maintenance  
Once you learn to assemble the foldable bike properly, it won't need any extra care to maintain. But if you can't understand how to fold and unfold these bikes, it also can be difficult for you to pay more attention on maintenance.
So before getting a foldable bike, first learn to assemble it perfectly. Then, you just need to clean the chains and batteries sometime. Also, take it to the servicing center whenever you find any inconvenience in the bike system.
Which are the best folding electric bikes?
Not all foldable bikes are good for regular commutes and bike tours. While choosing the right folding electric bike, you need to consider some must-have specifications. In all aspects, Young Electric E-Flow is the best foldable electric bike. Now let's explore the features you should look for while picking folding e-bikes.
●
Foldability
It's important to check the foldability of these bikes first. And it depends on the frame design and material. When it comes to foldable bikes, they should have easy folding capacity. The best frame material for folding bikes is aluminum alloy because it's light and easy to assemble.  
●
Battery capacity
One of the most necessary features of foldable bikes is battery capacity, for it determine the range of your bike journey. The best folding bikes have 48 V/20Ah and a 960 Wh lithium-ion battery, because these batteries cover far distances and can survive long time rides.
Note: Young Electric E-Flow provides a BAFANG 48V/20Ah 960Wh Lithium-ion battery.
●
Motor
No matter you're going to use it for commute or mountain riding, another concerning thing about these e-bikes is motor capacity. So you need a strong 750-watt motor to handle all terrains. Otherwise, it will be difficult to ride these bikes on mountain tours as it require enough power to conquer the bumpy roads and uphills.
Note: Young Electric E-Flow uses a BAFANG 750W Motor that helps to reach 28 mph.
●
Safety Features
For better safety, you need to consider braking and suspension systems. In that case, a good folding electric bike must comes up with a high-quality hydraulic disc brake and a 60 mm travel front suspension fork for better control.
Note: Young Electric E-Flow offers a hydraulic disc brake and front suspension fork.
●
Tire
When it comes to the tire, it should be fat and wide enough to provide better traction and handle hilly roads. So you should choose the folding bike with wide tires that ensure perfect balance with the road and tire.
Note: Young Electric E-Flow includes 20" x 4.0" fat tires.
●
Biking range
   Most people think foldable bikes aren't stable enough to cover longer mileage.  But that's completely a myth. Some folding bikes like Young Electric come up with a high biking range of 90 miles profiting from its high-performance battery.
Do folding bikes go slower?
Foldable bikes aren't slower at all. However, the speed of these bikes can vary with different factors like bike design, motor, terrain, and fitness level of riders. 
However, some foldable bikes can be heavier as they include hinge designs and fat tires. Though weight itself won't control the speed much, it can affect the balance of the rider and can cause slow speed issues.
The rider's skill directly affects the speed too. If you're not enough skilled in riding, it's not possible for you to maintain a constant speed. To solve the problem, you should learn to ride properly before buying an e-bike, and practice more to improve your riding skills thus reaching higher speed.
More importantly, only learning won't be sufficient if you don't choose the right bike model or understand perfect riding techniques. A foldable bike can reach the highest speed and cover extra mileage only if you combine those factors together.
Conclusion
All in all, now you understand everything about a foldable electric bike with suspension. Hope it will help you to get the most amazing folding electric bikes with suspension that will make your biking experience smoother and easier.
Whether you're planning for a foldable bike to go on a long bike tour or getting it for daily commutes, it will be worth it in all ways. We recommend Young Electric because of its great motor capacity, robust battery system, amazing suspension, and portability.
If you want to explore more bikes with marvelous features,  you can also check out other e-bikes and accessories here in Young Electric.
---