Why have electric bikes become a trend this summer
Do you want to enjoy your beach vacations more with an electric bike in summer? Or do you want to explore the hills and trails with it? No matter what you do, e-bikes can be a great companion for you this summer.
Taking other vehicles like cars won't be enough to let you enjoy the whole of natural aesthetics, only the e-bikes can assist you through hilly roads and trails that ensure exploring everything of nature. And that's why it's a trendy vehicle for everyone now.
But what makes it so admirable? Or which e-bikes are good for summer? We are here to answer all of your queries. Without further ado, let's dive into the detailed discussion of summer-friendly e-bikes.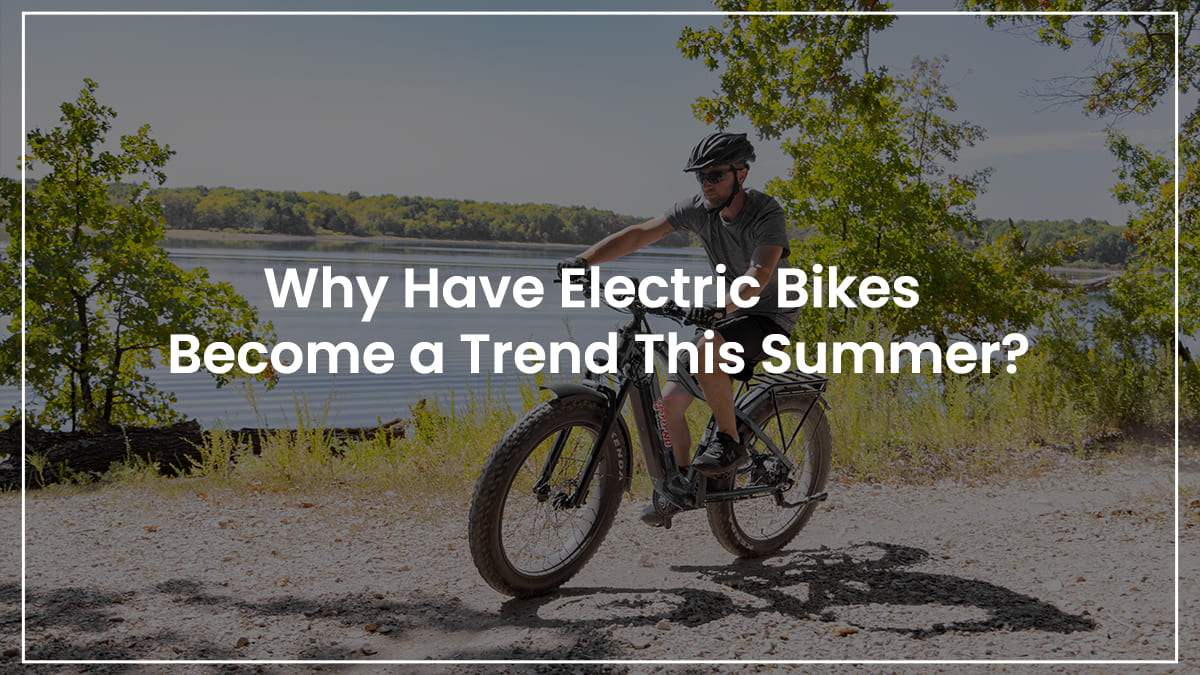 Why are Electric Bikes so Popular?
More than 500,000 units of U.S. are using e-bikes according to a report of 2021 and this increased by 13% in 2022. But do you know why it's so popular these days? E-bikes have several eco-friendly benefits and it can be one of the reasons but not enough for getting famous.
Aren't you curious to know it all? Don't worry, we've got it all. So let's get started to explore the reasons for e-bikes being popular.  
●
Easier to Ride- Safe your energy
Unlike regular bikes, electric ones are more comfortable and easy to ride because they depend mostly on motor assistance. Thus, it doesn't require constant pedaling and that makes the rides effortless.
Even if you are new to e-bikes, you can ride on it without thinking twice due to its flexible pedal system and perfect seat capacity. It's also saving your energy and making outdoor cycling or the daily commute easier.
●
Promotes Physical Activity
Though it's a battery-powered vehicle, it still boosts physical activity as you can cover more miles and exercise. And it doesn't make you tired easily like the regular bikes. So you can keep riding as much as you want.
Around 10% of e-bike users recommend it for better fitness equipment, as it's an easy workout device that is easy to operate. Also, fitness lovers use it for their evening casual rides or relaxing.
●
More Comfortable to Ride
When it comes to comfort, nothing can beat e-bikes because they come up with highly flexible features like seat quality and low pedaling needs.
Moreover, the shock absorption capacity makes your riding experience smoother than the conventional bikes. And with the adjustable settings, you can customize the system according to your convenience. And with its advanced suspension features and fat tires, you can go through the mountains with zero hassle.
The e-bike is compact in size and offers a wide miles coverage with a one-time charge. Hence, it can cross narrow paths that a car can't and explore more unknown, which is both cool and convenient for mountain riders.
●
More Fun to Ride
If you're fond of adventurous trips to hills, then going with an e-bike can be more interesting. You can get fun if you go on trips with large groups, or explore alone as well. Just imagine you're riding on a bike with your headphones on playing the songs you love. Sounds like the perfect plan for hill tours, right? Or you can also ride with your team talking with each other for fun and it can make your bonds stronger.
●
Environmentally Friendly
For running other vehicles like cars and motorbikes, it needs tons of fuel. That's one of the reasons for heavy air pollution everywhere. But e-bikes are powered by batteries that you just need to charge them. It takes less electric power to charge the batteries. That way, it's more energy efficient than heavy-duty vehicles and saves the environment efficiently. The more you reduce the use of gas and oil, the more you can maintain a sustainable lifestyle.
●
Stylish and Innovative Designs
Now tell me what attracts us the most while buying anything? We all fall for the looks first, then we look for the other features. E-bikes win the game because they come in sleek and aesthetic designs that grab all the attention.
Not only do they apply the external frame design but they also offer modern technology features. Some e-bikes have touch controls, quick mode-changing capacity, and smart features that can indicate speed. Besides, you can personalize the design the way you want.
●
Lower maintenance and Running costs
Most people are crazy about e-bikes because it's more cost-effective than other motor-powered vehicles. Also, it's quite effortless to maintain the e-bikes. You just need to clean, inflate the tires, and do routine lubrication from time to time.
The components like gears, brake pads, and bike chains have durable lifelines that last to the end. Owning a toolbox can also save some costs of repairing because you can fix multiple minor issues at home.
Now you must be thinking about buying an e-bike as well. Who doesn't want to get a popular and energy-saving vehicle for daily commutes? It's not an easy task to find suitable e-bikes. But don't worry! We've got some e-bikes that come with everything you want for it.
Recommendations for a few e-bikes from Young Electric
After in-depth research, we've found Young Electric is a best-selling and well-known e-bike brand in the U.S. market. It has a wide collection of e-bikes with user-friendly features and aesthetic designs. Now we'll suggest to you the top 3 picks from Young Electric e-bike collections.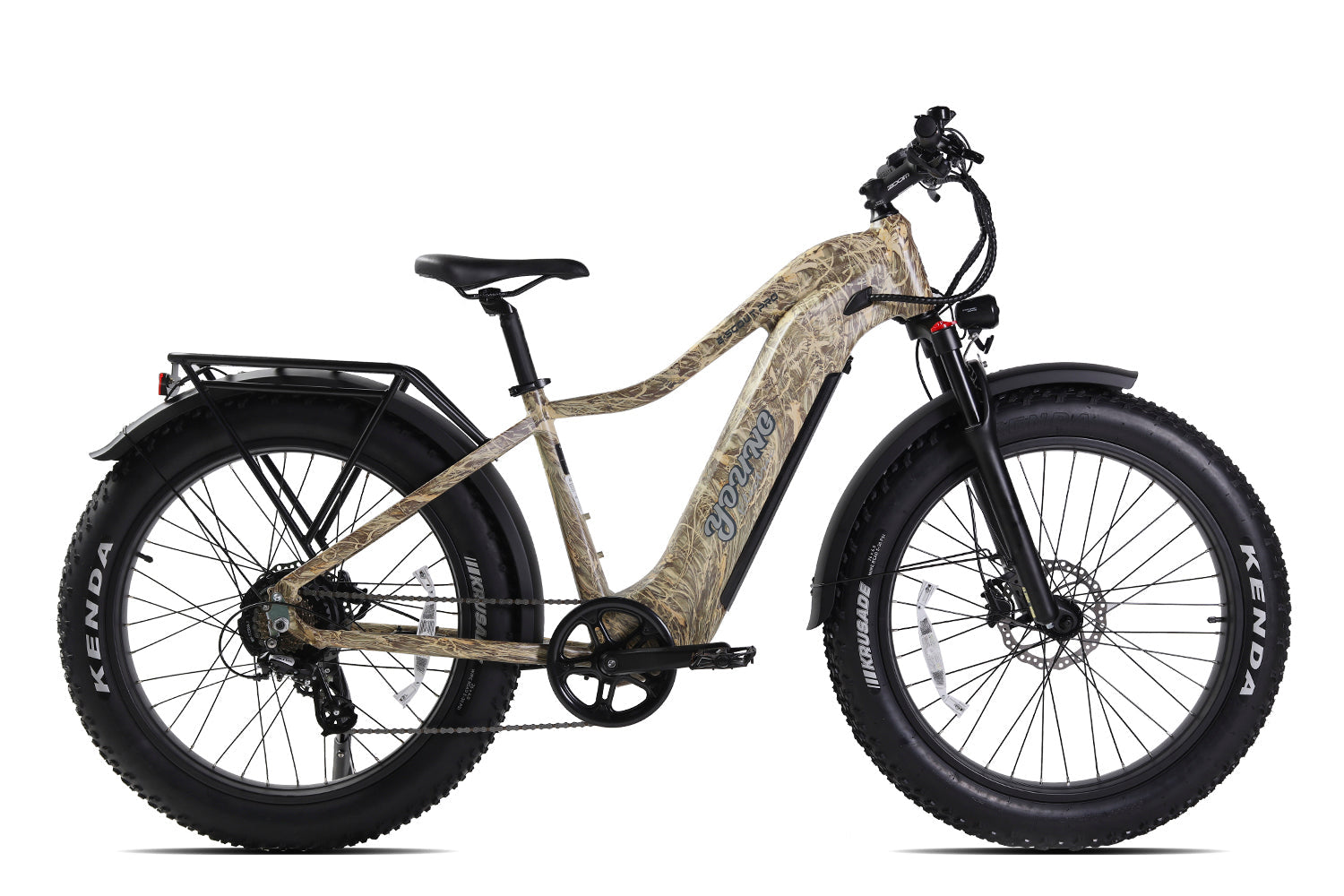 We start our list with the most adaptive e-bike of Young Electric and that's E-Scout. The main reasons why we've picked this one for you are the battery capacity, motor quality, and long-lasting performance.
●
Battery power
This all-terrain e-bike offers you a 720Wh LG battery with 48V and 15Ah power capacity to serve with a single charge until you cover 60 miles on pedals and 30 miles on throttles. It takes only 6 to 7 hours to charge the battery fully.
●
Shifting capacity
It has the Shimano 7-speed gearing system to ensure flawless shifting capacity and promote durability. Also, it helps to get rid of sudden wear issues.
●
Motor capacity
Apart from the technical features, you'll get a 750W rear hub motor that can assist you with a maximum speed limit of 28 miles per hour with pedals and 20 miles per hour with throttle. As the motor is strong enough, it can handle uneven trails, and rough mountains without hurting your back.
●
Safety features
For ensuring your highest safety and enhancing performance, it includes an updated hydraulic disc brake with a 180mm rotor. To make your experience secure on bumpy roads, this e-bike comes with an adjustable suspension fork with a coil spring and a mechanical lock-out system.
●
Wide display and headlights
It's necessary to know about the riding updates like assist level, battery level, mode status, distance, speed, and error codes for a safe ride. That's why the 3.5-inch multifunctional HMI display makes it visible to you on one screen.  
And while riding at night, it's quite difficult to be visible on the road or to see clearly. For this reason, E-scout provides 15 LUX headlight that helps to ride at night safely and responsibly.
●
Frame material and tires
If the frames aren't strong, they couldn't take enough loads. That's why E-Scout has been made of aluminum alloy that can hold almost 330 lbs.  
Another important factor is tires, they should be wide enough to handle all road challenges. Therefore, E-Scout comes up with KENDA 26" x 4.0" fat tires and it can go through from flat to bumpy, all terrains.
Now let's move into our next best pick of Young Electric collections which is specially designed for mountain trips.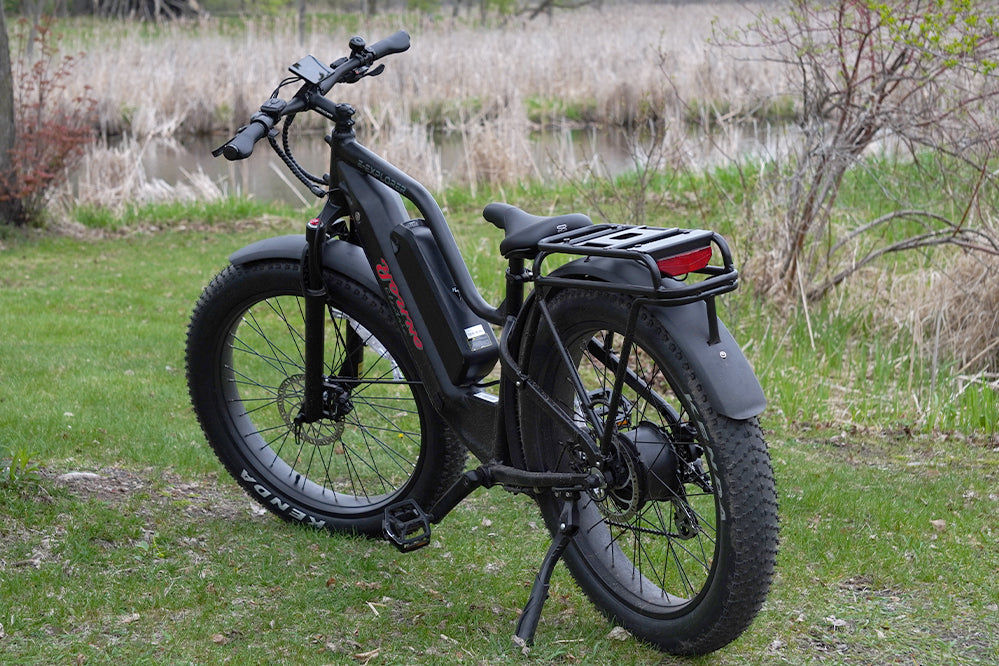 If you're going on hills this summer and want to take an e-bike with you, then we suggest you look into Young Electric E-Explorer. The extraordinary suspension features and battery capacity of this e-bike make it more stable and provide an extended adventure.
●
Powerful motor
 While riding through the hills,  it's essential to take an e-bike with a robust motor. To make the journey smoother, this e-bike provides a 1000W rear hub brushless motor with a maximum speed capacity of 28 miles per hour.
●
Battery capacity
On long road trips, one of the major challenges is charging the batteries if they can't cover long routes. But E-Explorer can solve the problem with the dual power 48V and 15Ah battery. Once you charge it up for 5 to 6 hours, it can cover more than 90 miles with this battery power.
·
Color display 
It's hard to see the bike status at night even if there's a display with a light. But if you want to check it clearly, you need a color display that makes the data more visible in the dark. 
·
Heavy cargo capacity
To carry loads while biking, it comes with a heavy-duty steel rear rack. Also, this e-bike offers custom designs to personalize the cargo capacity of 330 pounds, so that you could carry all your needs on your trip.
●
Safety features
Most accidents occur due to a lack of a proper braking system. But you don't have to worry about it when you have an e-explorer because it provides TEKTRO Hydraulic disc brakes to ensure enough brake safety.
Similar to E-Scout, it also offers a front suspension fork with lockout features to let you explore more without thinking about the bumpy roads.
And for safe rides at night, besides the 100 LUX headlight, E-Explorer provides a reflector tail light that guarantees a safe journey at night.
Conclusion
Due to the unimaginable popularity of e-bikes, nowadays people are choosing them over cars and fuel-powered vehicles. Electric bike in summer is the perfect blend for holidays in hills and beaches. It's eco-friendly and sustainable and saves energy costs.
While looking for the best electric bikes, we've got two of the most high-quality products of Young Electric that contain almost every feature that can make your vacations more interesting.
If you want to explore more e-bikes and get extra accessories, Young Electric has huge collections that can blow your mind.
---